Shows are cutting back on scenes that depict smoking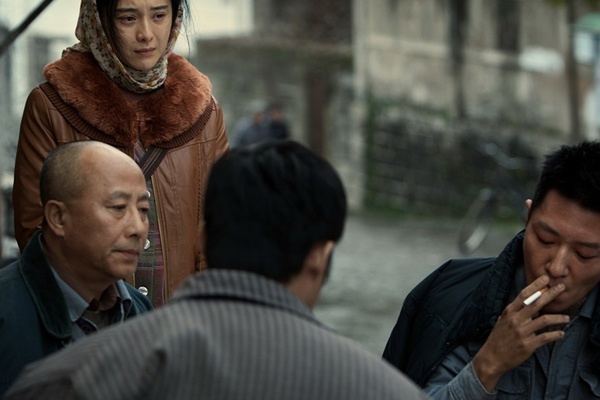 A smoking scene from the movie I Am Not Madame Bovary, which won the Dirty Ashtray Award this year. Provided To China Daily
Reductions not nearly enough to shield children, health official says
Smoking scenes have been significantly reduced in Chinese films and TV series in the past decade thanks to increasing awareness by the industry and the public, according to a new survey by the Chinese Association on Tobacco Control.
Running against the trend was renowned film director Feng Xiaogang, who earned the association's Dirty Ashtray Award for the second year in a row.
Of the top 30 Chinese blockbusters screened last year, the movie I Am Not Madame Bovary, directed by Feng, had the highest number of smoking scenes - 16 - with the longest one lasting 70 seconds, according to Hu Dayi, head of the association.
The film Mr. Six, starring Feng, got the award last year.
It is the ninth year the association has conducted the survey.
"We have seen changes for the better over the years and aim to remind the industry and the public, particularly parents, to protect children from the subtle impacts of smoking scenes," Hu said.
Seventeen of the 30 movies surveyed had smoking scenes, down nearly 35 percent from 2007, according to the association.
The decline in the number of smoking scenes in TV series was even more evident. Half the top 30 most-watched Chinese TV series had smoking scenes, a 45 percent drop from 2007. The average length of the smoking scenes dropped by 90 percent between 2007 and 2016.
Jiang Yuan, a tobacco control official at the Chinese Center for Disease Control and Prevention, said: "That's far from enough for child protection, as the easy access to such productions over the internet leads to more exposure of young people to smoking scenes."
The World Health Organization Framework Convention on Tobacco Control, to which China is a signatory, recognized the depiction of tobacco in films as a form of tobacco promotion that can strongly influence tobacco use, particularly among young people.
"The industry should be more aware of the fact," Hu urged. "The authorities should strengthen regulations on this as well."
Under regulations issued in 2009 and 2011 by the State Administration of Press, Publications, Radio, Film and Television, smoking scenes are "strictly controlled" rather than banned.
The situation is complex in China, according to Hu, as smoking has long been perceived as a social activity among men, and people often give expensive brand-name cigarettes as gifts.
Moreover, the country has no rating system for films and TV series, which makes it even more challenging to protect children from depictions of smoking.
shanjuan@chinadaily.com.cn