Scams net millions of yuan intended for projects to raise living standards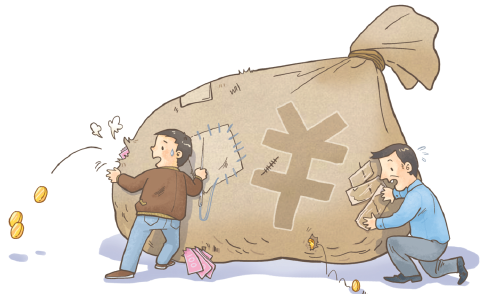 The National Audit Office has uncovered fraud, embezzlement and malpractice in a number of provinces, as Zhang Yi reports.
Hundreds of millions of yuan have been stolen or held in local government bank accounts, rather than being used for poverty-alleviation projects, according to a wide-ranging probe conducted by the National Audit Office.

A nationwide inspection found that 15 companies and agencies in five provinces had forged contracts to gain access to 12 million yuan ($1.7 million) of funding.
Misconduct in the bidding processes for projects worth a combined 62 million yuan was uncovered in three provinces last year, and inspectors also found that 237 million yuan sat idle in local government bank accounts for more than a year in six provinces-Liaoning, Jilin, Jiangxi, Hubei, Yunnan and Shaanxi-with 196 million yuan held unused for more than two years.
The three-month audit, which began in October, was part of wider efforts to crack down on corruption related to funds provided to meet the government's target of eradicating poverty nationwide by 2020.
Last year, each auditor spent an average of 200 days away from the office undertaking trips to poverty-stricken areas, according to Cao Sheng, an auditor at the NAO branch in Chengdu, capital of the southwestern province of Sichuan. At the end of December, 3.8 million people in the province were classified as living below the poverty line.
Poverty-alleviation projects involve huge amounts of government funding, with the money spread across a number of areas and individuals. Therefore, auditors are required to assess how county-level governments utilize money intended for poverty-relief work, according to the NAO in Chengdu.
Knowledge and experience
"The modus operandi for the misappropriation of public money earmarked for poverty-alleviation projects varies from case to case. That means the auditors must possess sound knowledge and deep experience of both finance and government policies to cope with this scourge. In addition, they must be devoted and resilient because they often need to travel long distances to remote areas and walk for hours to reach isolated villages and conduct field investigations," Cao said.
During a recent audit of funds allocated to projects intended to help impoverished residents of Gulin county in Sichuan, auditors spent seven hours on the road from Chengdu. During the audit, they were shocked to discover that a local company had fraudulently claimed thousands of yuan by using fake documents.
According to officials, the company, Shanyuan Papaya Plant Co, an agricultural business with a previously unblemished reputation, forged documents that allowed it to receive 140,000 yuan from the local government's poverty-relief fund.
"When I asked why the local government had failed to realize the documents were fake, the officials said they trusted the company because it had operated in the county without a problem for eight years. They didn't imagine the company would falsely claim money set aside for poverty relief, so they didn't perform thorough checks on the documents it provided," said Chen Xinyuan, an NAO auditor in Chengdu.