Medical staff opens 8,000 medicine bottles by hand to save patient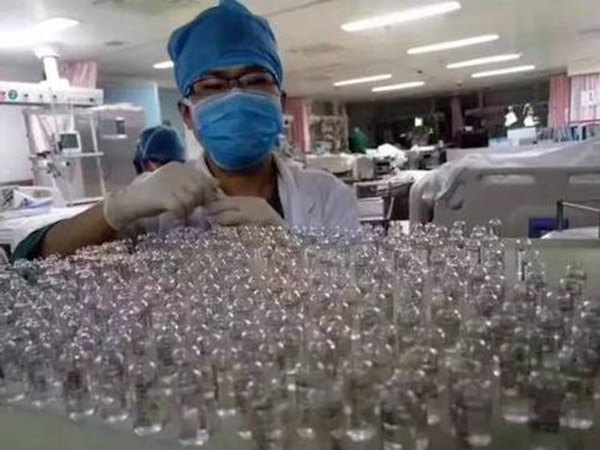 A medical worker at the First Affiliated Hospital of Shantou University Medical College opens a glass vial of atropine to save a poisoned patient in the early hours of May 19, 2017. [Photo from the Web]
Medical staff at a hospital in Shantou, South China's Guangdong province, opened 8,000 bottles of atropine by hand in one night to save a severely poisoned person, China Central Television reported on Monday.
The patient was sent to the intensive care unit of the First Affiliated Hospital of Shantou University Medical College on the evening of May 18. The patient fell into a coma after drinking DDVP, a type of insecticide.
As atropine, an antidote for phosphate poisoning, is stored only in small doses, and a large amount of the medicine was needed to treat the patient, eight medical workers in the hospital opened 8,000 small bottles of the medicine using only their hands in about 12 hours. Many of them broke their fingers from opening the glass bottles, according to the report.
Without enough atropine in stock, the hospital also had to turn to other hospitals to receive more supplies.
Atropine is an affordable medicine used to treat certain types of nerve agents and pesticide poisonings. A member of the medical staff said it is a common practice to open the atropine bottle by hand, but the case in question is rare because of the sheer amount of atropine urgently needed.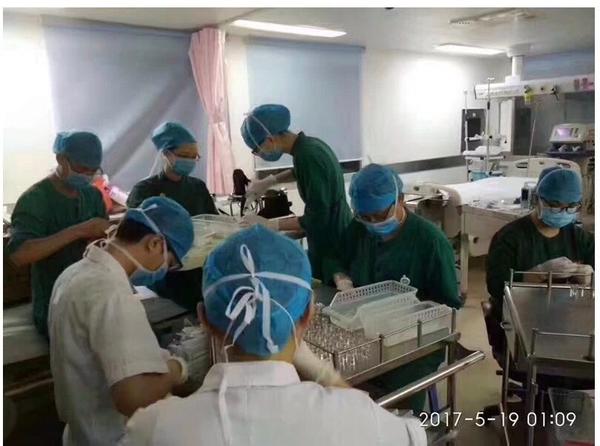 Medical workers at the First Affiliated Hospital of Shantou University Medical College open glass vials of atropine to save a poisoned patient in the early hours of May 19, 2017. [Photo from the Web]