Navy brings supplies, medicine to flood-ravaged Sri Lanka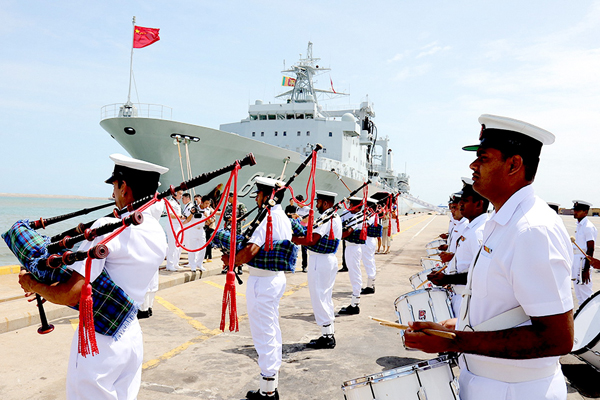 A Sri Lankan military band welcomes the arrival of a Chinese Navy fleet at a port in Colombo, the country's capital, on Wednesday. Shi Kuiji / For China Daily
The Chinese Navy provided supplies and medical workers on Wednesday for relief efforts in Sri Lanka's flood-hit regions as the death toll in the country's worst monsoon disaster since 2003 climbed to 203.
Sixteen medical personnel aboard the People's Liberation Army Navy vessels Changchun, Jingzhou and Chaohu arrived at the port in Colombo to assist with the ongoing relief operations, the Defense Ministry said.
The Navy provided 1 metric ton of rice, 1 ton of flour, 10 inflatable rubber boats, 300 boxes of bottled water, instant noodles as well as various medical equipment and supplies, the ministry said. All the supplies were from the three ships, which were conducting goodwill visits around the world.
The fleet originally arrived in Sri Lanka on a four-day goodwill visit, but subsequently changed plans when it received news of the flooding situation, said Shen Hao, the fleet commander.
Officers and sailors on the ships tried their best to gather the supplies and medicine, and arrived to help the people of Sri Lanka as soon as possible, he said.
When they arrived on Wednesday morning, Navy personnel worked closely with the Sri Lanka Navy and the Chinese embassy to carry out relief efforts. The Chinese Navy meticulously organized and prepared the supplies, and was active in supporting the rescue effort, Shen said.
The supplies were handed over to Sri Lanka's Vice-Admiral Ravindra Wijegunaratne, commander of the Navy, during his visit to the Chinese ships on Wednesday afternoon.
The supplies and equipment will greatly help the relief effort, he said, adding that he appreciated the assistance from China.
The Chinese and Sri Lankan navies already enjoy close cooperation, and the partnership will be even closer in the future, he said.
By Wednesday, Sri Lanka's disaster management center said the floods and landslides caused by Tropical Cyclone Mora had affected 15 districts, with 203 deaths and around 630,000 people forced to leave their homes.
The flooding is believed to be the worst since May 2003, when a similarly powerful monsoon killed around 250 people and destroyed 10,000 homes, according to the center.
zhangzhihao@chinadaily.com.cn