Bringing modern living to rural villages
Editor's note: In the run-up to the 19th Communist Party of China National Congress, China Daily sent six reporters to villages nationwide to live for a month and take a look at how people are working under China's poverty eradication plan. Read more in our special coverage: Five Years On
Retired telecommunications worker has spent nearly two decades helping poverty-stricken areas 'stand on their own two feet'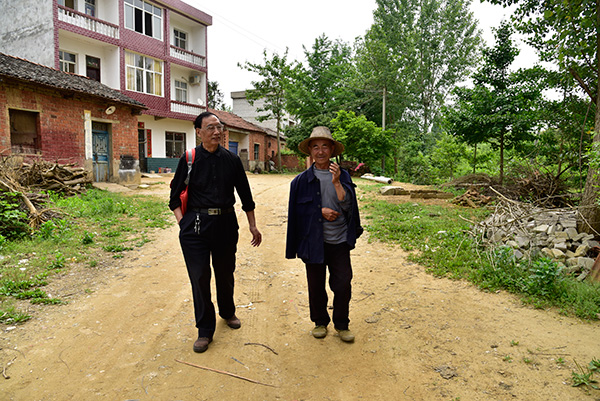 Liu Zhengrong (left) visits a villager in Hongxing in Huanggang, Hubei province. WU YAN/CHINA DAILY
Some people see retirement as a chance to put their feet up-but not Liu Zhengrong.
Although he called it quits on a career in telecommunications 16 years ago, he has continued to help bring poor, remote villages in Hubei province into the modern age as part of a program that has run for almost two decades.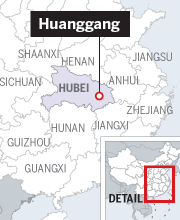 Liu, now 70, was among the first group of government and State-owned enterprise employees dispatched to the countryside by Huanggang city in 1999 to help with poverty alleviation efforts.
He has spent the past five years living and working in Yijiafan and Sikoutang, two villages which were combined in a boundary shake-up late last year to form Hongxing.
In that time, using his years of experience, he has helped improve the community's telephone system and secure 1.3 million yuan ($188,740) in investment from Hubei Telecommunication Co to install a broadband internet network.
"Every home will soon have internet access and web TV," he said, adding that 36 percent of households had a broadband connection as of March.
In addition to the telecom upgrade, he has also advised village cadres on urban planning and conducted door-to-door surveys on income, population, health, education and overall living conditions.
The area around Hongxing has seen major changes in recent years, not least because it sits along an expressway opened in 2015 that runs between Daqing in Heilongjiang province and Guangzhou in Guangdong province.
Local tourist attractions such as the Hongxing Martyrs Memorial have been integrated into the "red tourism" route around the Dabie Mountains, which was one of the old revolutionary base areas, bringing an increase in visitors.
Better transportation links have also seen families move to homes built along new roads, while those who have stayed can now travel easier on flat, concrete roads rather than the old dirt trails.
"All homes have running tap water," Liu said, adding that the final house was connected last year. "Everyone can use electricity whenever they want and they don't have to worry about when it might be cut off."
As a result, at the end of last year, Hongxing was declared free of poverty. The average per capita net income has risen to 8,180 yuan a year, according to the authorities, nearly triple the poverty line figure of 3,000 yuan.