Inspired to grow peaches, farmers bid poverty adieu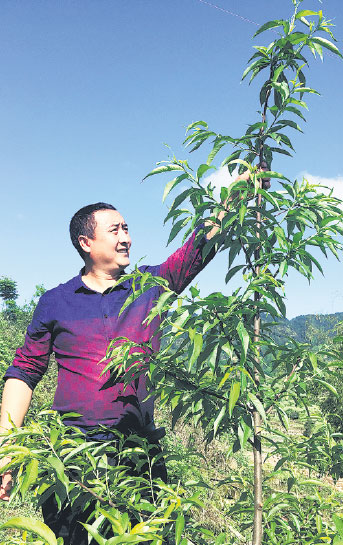 Wang Xiaobing, a peach farmer in Wulong, Chongqing, talks about one of the varieties recently planted. Tan Yingzi / China Daily
One man's example lifts an entire community to agricultural success
After Shen Jianzhong graduated from college and returned to his hometown in Chongqing's Wulong county, an elderly acquaintance would often tell him: "You shouldn't have come back to grow produce here. There is no money to be made from it."
But Shen has proved her wrong. In the past two decades, his peach plantation has not only brought him fame and fortune, but also helped put his neighbors on the path to prosperity.
Poverty-stricken Wulong, which is short on infrastructure and industry, is known for its unique karst landscape. Because of the topography, the ground is rocky, and the meager soil can hold little water.
In 1996, Shen, a graduate of a local agricultural college, started his peach-growing business in Fazi, a remote mountain village in Huolu town with about 2,000 residents.
According to a government survey in 2014, nearly 10 percent of the people in Fazi had incomes below the national poverty line - which was 3,000 yuan ($435) annually per capita in Chongqing.
In 2015, the central government pledged to adopt more policies to help lift the country's 70 million poor people above the poverty line by 2020, promising impoverished families 1,500 yuan a year in seed funds to help them earn money by selling produce.
While at college, Shen decided that after graduation he would plant fruit trees, rather than finding a job in the public-service sector, which is often seen as a dream job for young people in rural areas.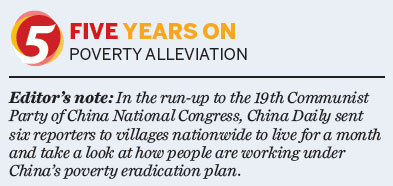 "In the past, people in Fazi only planted traditional crops such as corn and potatoes, which have low economic return compared with fruit trees, which can yield 10 to 20 times the value of traditional crops," he said.
Shen spent 10,000 yuan to rent 3.3 hectares of land on a barren hill to plant a peach orchard. The soil was not good enough to grow crops.
"We have a saying that a bowl of soil equals a bowl of food," he said. "Soil is precious here."
For the first three years, Shen and his wife had to carry soil to their hill using shoulder poles - they estimate 100,000 loads.
After years of research and experimentation, Shen developed a variety of peach - which he named the "fairy peach" after nearby Xiannyu Mountain (its name means "fairy mountain" in English). The peach can adapt well to the local environment and boasts exceptional color, size and quality.
Shen, 46, now has 40 hectares of peach orchards and makes about 6 million yuan a year.
Inspired by his success, more villagers started to plant peaches and other fruit, including plums and kiwi.
In 2012, Shen set up the first cooperative in his village. He taught the farmers his planting and management skills, and promoted green and scientific growing concepts. With his help, more than 200 families in the village have begun to cultivate peaches.