China and Vietnam declare war on human traffickers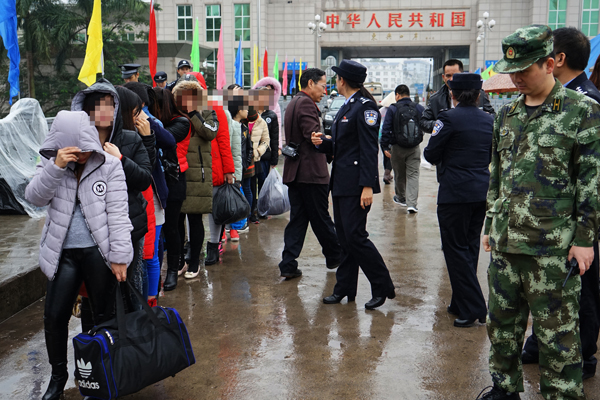 Abducted Vietnamese women prepare to return home at Dongxing port, Guangxi Zhuang autonomous region, on the China-Vietnam border. [Photo by Huang Jun/China Daily]
Stringent measures will be implemented to tackle cross-border abductions of young women.
Police in China and Vietnam will strengthen exchanges of intelligence and evidence, and conduct joint investigations and exercises in a bid to smash large cross-border human trafficking rings, according to a top government official.
Chen Shiqu, deputy director of the Ministry of Public Security's Criminal Investigation Department, said border management will be strengthened and inspections will be intensified to cut off the traffickers' channels.
Officers will also focus on improving cooperation in case investigations, collection of evidence, the capture and repatriation of suspects, and victim rescue and rehabilitation.
The ministry said a huge economic imbalance coupled with loopholes in social management have resulted in a large number of Vietnamese women, mostly from poor rural areas, being kidnapped and illegally transported to China for forced marriages or to work as prostitutes.
Chen Jianfeng, director of the anti-human trafficking office at the ministry's Criminal Investigation Department, promised tougher measures against traffickers: "Women are not commodities, and they should not be marketed. We will deepen practical cooperation on law enforcement with Vietnam to crack down on such crimes."
Common ancestry
The border between China and Vietnam is more than 1,300 kilometers long and there are few natural barriers. Many people living on both sides of the border have common ancestry, so cross-border marriages are common, while locals frequently move between the two countries without checks.
The conditions in the subtropical region allow gangs to move young Vietnamese women across the border under the pretext of providing jobs as nannies or servants, and in industry.
The ministry declined to release statistics, but said the number of women trafficked fell slightly last year, as a result of intensified efforts by the countries to combat such crimes.