Egyptian forces hit terror camps in Libya in response to Minya shooting attack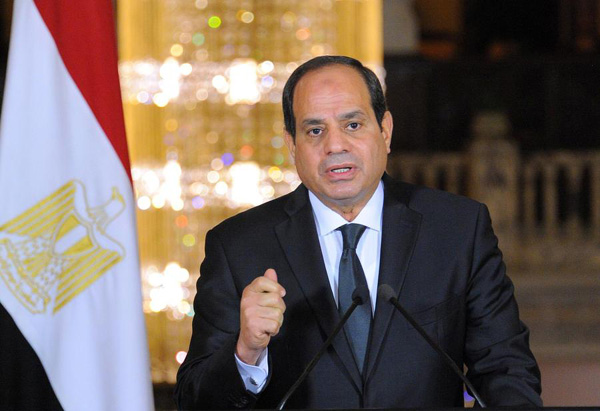 Egyptian President Abdel Fattah al-Sisi gives an address after the gunmen attack in Minya, accompanied by leaders of the Supreme Council of the Armed Forces and the Supreme Council for Police (unseen), at the Ittihadiya presidential palace in Cairo, Egypt, May 26, 2017 in this handout picture courtesy of the Egyptian Presidency. [Photo/Agencies]
CAIRO - Egyptian President Abdel-Fattah al-Sisi said on Friday that the Egyptian forces hit terrorist training camps after the shooting attack that killed 28 Copts in Upper Egypt's Minya governorate.
"Now, we have hit training camps used by those terrorists ... Egypt will not hesitate to target these terror camps anywhere," Sisi said in a televised speech aired by the state TV.
Sisi did not mention the place of the targeted camps, but Egypt's state TV have reported that the Egyptian jets have hit 6 terror bases in neighboring Libya.
Earlier on Friday, unknown gunmen opened fire on buses carrying Coptic Christians in Minya governorate, about 220 kilometers south of Cairo, killing 28 people and wounding 24.
Security sources told Xinhua that some ten gunmen in three four-wheel-drive vehicles, intercepted the victims' two buses on the way to St. Samuel Monastery in the Minya governorate, and opened fire randomly at them.
The source added that the attackers were dressed in security uniforms.
No group yet claimed responsibility for attack that was carried one day ahead of the Muslims Holy fasting month of Ramadan.
"These countries that support terrorism and provide terrorists with training and weapons must be punished," Sisi stressed.
The Egyptian president revealed that the terrorists want to the break the strong Egyptian social fabric as well as the country itself.
"They want to send a message to the Christians that the government cannot protect you...we must be careful," he said.
About 70 Coptic Christians, who make up about 10 percent of Egypt's population of 92 million, have been killed in bomb attacks on churches in the cities of Cairo, Alexandria and Tanta since December.
Those attacks were claimed by Islamic State (IS) which pledged last week in a video to target non-Muslims everywhere.
REVENGE ATTACKS
Observers believe that the IS is targeting Christians in attempt to hit back after the Egyptian army has done great achievements against terrorists in Sinai.
Samir Ghatas, chairman of Middle East Forum for Strategic Studies, said the terrorists know that the Copts are a sensitive issue for the government and causes troubles internationally for Egypt. "So they keep attacking Copts to embarrass the regime inside and outside."
"By targeting Copts, the terrorists would show the state is very weak, and would affect Egypt reputation worldwide as a country that couldn't protect Copts," he told Xinhua.
Ghatas pointed out that it would also cause division among the Egyptians themselves, adding that the terrorists also wanted to punish the Copts for supporting Sisi against the Islamist leader Mohamed Morsi.
Additionally, he said, the terrorists have a religious aspect, because they are convinced to kill whoever is not a Muslim.