Trump cries foul over burden sharing at NATO summit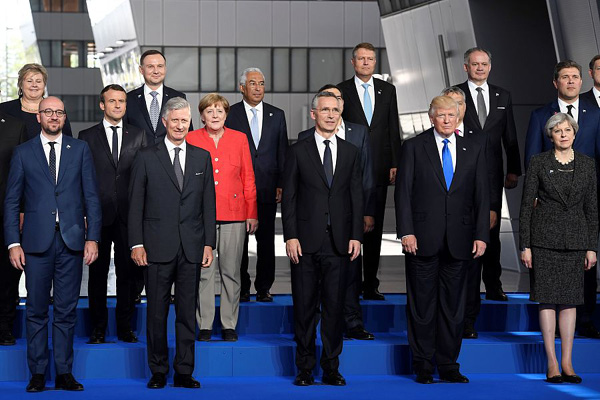 Leaders pose for a family picture during the NATO (North Atlantic Treaty Organization) summit at the NATO headquarters, in Brussels, May 25, 2017. [Photo/VCG]
BRUSSELS - US President Donald Trump on Thursday used the occasion of his maiden summit with NATO leaders to, once again, remind his fellow NATO alliance leaders for not being "fair" to US taxpayers.
"23 of the 28 member nations are still not paying what they should be paying and what they are supposed to be paying," Trump said, adding that they owe "massive amounts".
NATO says a rising number of European members have increased defense spending "significantly" in the last 12 months, although only a handful meet the 2-percent spending target agreed at a previous summit in 2014.
Trump's comments will disappoint alliance leaders who had hoped for a public commitment from the US president to NATO's security guarantees, which he called into question during his presidential campaign last year.
It was also notable that Trump refused to publicly reiterate US commitment to NATO's mutual defense provision, Article 5, which had been invoked just once before: after the terror attack of September 11, 2001.
However, NATO Secretary General Jens Stoltenberg said NATO leaders had agreed to step up NATO's role in the fight against terrorism and "fairer burden sharing".
The meeting, he said, had adopted an action plan to enhance NATO's contributions and had also decided to expand to support to the US-led "Global Coalition to Defeat ISIS".
Stoltenberg said, "This will send a strong political message of NATO's commitment to the fight against terrorism and improve coordination within the Coalition."
However, he stressed, "It does not mean that NATO will engage in combat operations."
On burden sharing, he said, "In 2015, defense cuts came to a stop. And in 2016, total spending across Europe and Canada increased by billions of dollars. This is not just about cash, but also modern capabilities."
The summit had taken steps "to keep up the momentum" and agreed to develop national plans every year.
"These will set out how NATO Allies intend to meet their pledge. So that we continue to match words with action," said the NATO's chief.