Former Greek PM Loukas Papademos lightly injured in booby trapped envelope blast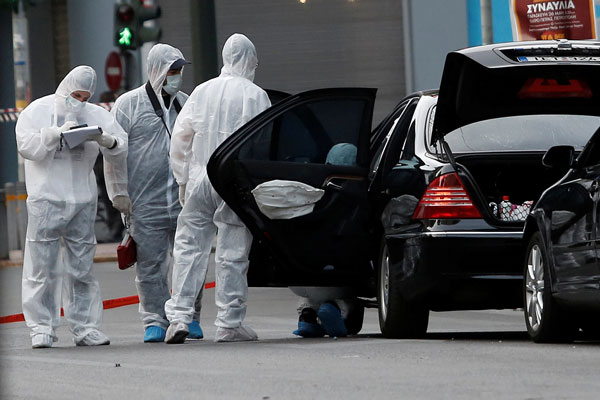 Forensic officers inspect the car of former Greek Prime Minister and former central bank chief Lucas Papademos following the detonation of an envelope injuring him and his driver, in Athens, Greece, May 25, 2017. [Photo/Agencies]
ATHENS -- Former Greek Prime Minister Loukas Papademos was slightly injured on Thursday after the explosion of a booby trapped envelope inside his car in central Athens, according to the latest report on Greek national news agency AMNA.
Papademos, 69, has been transferred to hospital, along with the driver and co-driver of his car who were also slightly injured.
According to early information from police sources, the envelope exploded while the car was in motion near the Polytechnic University.
Although there is yet no claim of responsibility, suspicions fall on domestic groups who for several years attack political, financial and police targets, according to the same sources.
In recent years, "Conspiracy of the Nuclei of Fire" has claimed responsibility for a series of such attacks with booby trapped envelopes which have been sent also to European leaders.
Papademos served as an interim prime minister from November 2011 to May 2012.
He has also served as governor of the Central Bank of Greece (1994-2002) and vice-president of the European Central Bank (2002-2010).