As a prelude to the 2016 Chengdu Food & Cultural Festival, a Sichuan cuisine overseas promotion center and a Chengdu tourism experience center were set up in the Bay Area of San Francisco.
The two centers were located at Yan Can Cook Inc, the catering company of Chef Martin Yan, famous star of the long-running television show Yan Can Cook.
Yan said he will try his best to introduce the food and culture of Chengdu to audiences across the United States through a variety of activities.
He also announced that the next series of his Yan Can Cook show will be produced in Chengdu. It is a series of 13 half-hour episodes entitled A Taste of Chengdu, with Martin Yan.
The new series is scheduled for production in early 2017 and to launch on PBS in 2018.
"This is truly an ambitious campaign," Yan said. "It's designed to put Chengdu front and center on the North American stage."
During the festival, Chengdu also set up a second Sichuan cuisine overseas promotion center in Los Angles at a new branch of Chengdu Impression, a restaurant headquartered in Chengdu.
Officials at the Chengdu Commission of Commerce said the promotion center in San Francisco aims to improve the popularity of Sichuan cuisine and Chengdu among US society, while the one in Los Angles is intended to increase the recognition of Sichuan cuisine.
Du Bin, chairman of Chengdu Impression, said the restaurant branch in Los Angles covers a total area of 670 square meters.
The Sichuan cuisine promotion center, covering 80 square meters, will focus on education and exchange.
"We will keep the original flavor of Sichuan cuisine, while at the same time making the dining experience more diversified and globalized," he said.
Du said he will also make full use of the platform to promote Chengdu culture and offer the experience to other Sichuan restaurants that are willing to expand their businesses overseas.
To accelerate the international promotion of Sichuan cuisine, Chengdu is scheduled to set up 10 Sichuan cuisine overseas promotion centers in three years.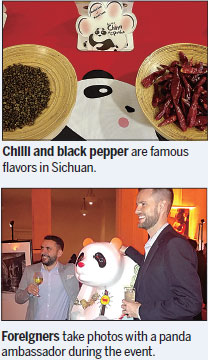 (China Daily USA 12/02/2016 page11)