Isolated community surfs the web to net new customers and profits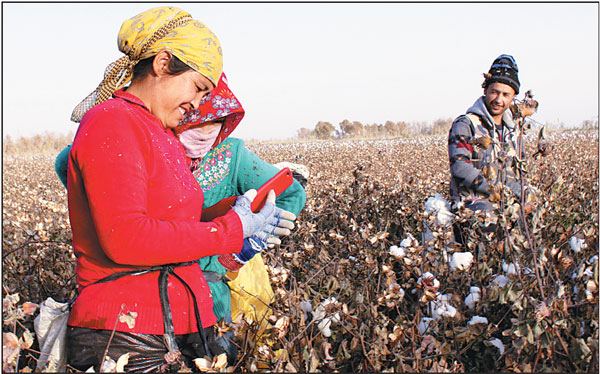 Cotton farmers check a smartphone in Aksupa village, the Xinjiang Uygur autonomous region. Eighty percent of the villagers now own high-tech devices, such as computers and smartphones.Photos By Peng Yining / China Daily
The introduction of e-commerce is helping to raise the living standards of poor families living on the edge of the Taklimakan Desert. Mao Weihua and Peng Yining report from Aksupa, the Xinjiang Uygur autonomous region.
Editor 's note: This is the third in a series of special reports China Daily will publish in the coming weeks focusing on efforts to eradicate poverty and raise living standards in the country's rural areas, especially among members of the nation's ethnic groups.
The journey begins at Aksupa village, an ancient Silk Road outpost in the Xinjiang Uygur autonomous region, and ends four days later in Beijing and other major cities, where long-lasting flatbreads baked in the village are sent to customers by air.
Awahan Osman, a 49-year-old Aksupa resident and skilled baker, sells more than 3,000 flatbreads across the country every month, 10 times the number two years ago.
When asked about the secret of her success, the Uygur woman, who doesn't speak Chinese, uttered one word in English: "Internet." The Uygur language has absorbed many loanwords from English, and most of them relate to technology, such as "internet", "computer" and "telephone".
As the latest weapon in the fight against poverty, "internet" has become a popular word in Aksupa, the township from which the village derives its name, in the Beyinguoleng Mongolian autonomous prefecture, which borders the 323,750-square-kilometer Taklimakan Desert.
Since 2014, the local government has been collecting the villagers' products, including bread, eggs and honey, to sell via an online store it founded and operates. Although revenue was small initially, it has grown and is now a major provider for poor local families.
When Osman's carpenter husband fell sick five years ago, the family lost its sole means of support. Now, she can make 2,000 ($290) to 3,000 yuan a month by supplying flatbread, or nang, a famous Xinjiang cuisine, to cities nationwide.
"I used to sell my bread in our village to make a living," she said. "But now it's sold in big cities like Beijing and Shanghai."
Environment and poverty
According to Zhu Ren, director of the government of Aksupa township, the area's arid environment and remote location force people into poverty.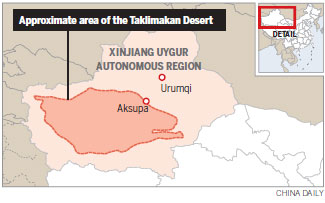 In 2013, many harvests were ruined by a hurricane, leaving about one-third of the population of 3,000 living below the national poverty line of 2,800 yuan a year.
"People's lives slid to the bottom of a hole, so we started thinking of a way out," Zhu said.
He recognized the business potential of local products - including home-produced bread, eggs and honey - and realized that the internet could connect villagers with customers thousands of kilometers away.
"Aksupa village has low levels of industrial pollution, so our organic products are exactly what people living in cities want," he said.
This year, the village's online store, supplied by nearly 100 local families, has earned 15,000 yuan through the sale of more than 10,000 eggs, and three families have opened their own online outlets.
Liu Jianguo, a 51-year-old resident, said he can make more than 10,000 yuan a year selling eggs online. "We used to give away dozens of eggs to friends because there was no place to sell them," he said. "Who knew we could sell eggs online? It's a miracle!"
Patigul Halik, an official with the local township administration, said almost every family in Aksupa village keeps chickens to provide eggs and meat, and the online store provides a channel for the sale of surplus eggs.
When an order is received, Halik visits local families to collect fresh produces. Each egg is stamped with the supplier's name, so it can be traced back to the family.

"We don't have chicken farms in Aksupa. All the eggs and bread we sell are the same as those eaten by people here," Halik said. "That's why our products are so popular online."
In November, a two-story e-commerce service center was established to collect, store and process produce before it is packed and sent to cities nationwide.
According to Zhu, the township director, every resident will be above the poverty line by the end of next year.
Effective policies
In 2014, the State Council Leading Group Office of Poverty Alleviation and Development, listed e-commerce as one of a number of effective policies. A year later, the use of e-commerce to alleviate poverty became one of "10 Targeted Poverty Alleviation Projects", along with improved vocational training and microfinance.
Last year, the Ministry of Commerce and Ministry of Finance listed 200 counties nationwide that had made praiseworthy efforts in the development of e-commerce. This year, Lopnuv, the county in which Aksupa village is located, applied to join the list, but has yet to hear if its application has been successful, according to Wang Yuanming, vice-director of Beyinguoleng Mongolian autonomous prefecture.
Smart Daxi, the online business platform of Daxi village, is bigger than the operation in nearby Aksupa. Last year, it had sales worth more than 10 million yuan, the most popular being famous local products such as cotton quilts and dried fruits. Meanwhile, almost half of the 350 families in Daxi run their own online stores.
The central government has vowed to eradicate poverty by the end of 2020 and build what President Xi Jinping has called "a moderately well-off society", but the challenges facing Xinjiang are huge, Wang said, noting a report by Xinhua News Agency last month, which stated that 2.6 million people in the region live below the national poverty line.
"E-commerce is certainly a powerful tool, but it still has limits," he said, adding that most poor families can't afford digital equipment to start online businesses, and for those living in remote mountainous areas, where there is no electricity supply, the internet does not exist.
Language barrier
Language also presents a barrier, according to Wang. Many of the region's ethnic groups, predominantly Uygur people, use their own languages. As a result, they find it difficult to surf the internet because Mandarin is used almost universally.
"That's why we are building online stores for villagers and teaching them how to use the internet," said Li Xinyun, director of the Aksupa village e-commerce service center, who added that the authorities have invited owners of successful online stores to lecture in the town.
People in big cities regard online business as a part of life, but it's a brand new world for people in Aksupa village, he said. Now, when Li and his colleagues visit local families, they always take a laptop with them.
"We let the farmers touch it and use it. Then we open the online store on our smartphones to explain how we sell their bread and eggs to other places," he said. "The internet is a strange concept for them, and it's easier to believe in something you can actually see."
With the money she has made by selling her bread online, Osman, the baker, has bought a refrigerator and electric bike - things she never thought her family could afford.
"I don't have a computer and I don't know how the internet works," she said. "But I can see the changes brought by the internet very clearly."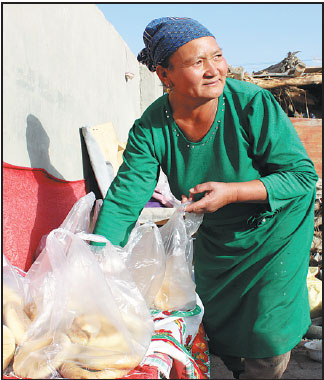 Aksupa villager Awahan Osman prepares flatbreads that will be sold online to customers nationwide.