Getting to know the score about drugs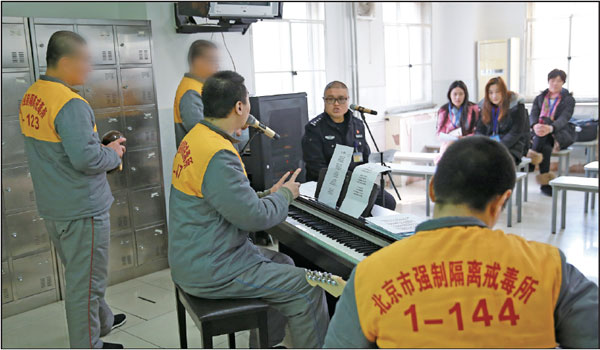 Residents rehearse for a concert in front of members of the public at the Compulsory Rehabilitation Center in Beijing.Photos By Zou Hong/china Daily
The authorities in Beijing are using musical therapy to help rehabilitate addicts in the capital. Zhang Yi reports.
Last month, Beijing played host to a concert that was literally unmissable, both for the performers and the audience, who are all drug addicts residing at the Compulsory Rehabilitation Center in the capital. The show was part of efforts to shift the emphasis of addiction treatment from punishment to rehabilitation.
"I was devastated when I was sent here in September to start a minimum six-month sentence. I thought it was bad luck that I was spotted at a toll booth in Beijing (when under the influence of drugs), and I was afraid of the rehab process. But now, the access to music has helped me to calm down and also improved my ability to manage my emotions. The desire for drugs has gradually declined as well," said pianist Wang Feng (not his real name), a former methamphetamine addict.
Cui Xinhua, the head of the center, said most of the addicts sent to the facility have difficulty controlling their emotions or finding ways to vent negative feelings - factors that led them to resort to drugs in the hope of avoiding troubling issues or to induce a false feeling of serenity.
"Musical therapy was introduced in August last year to provide an outlet for the addicts - a way of expressing their thoughts and emotions. It gives them the opportunity to kick the habit of using drugs to block out reality. Some have been encouraged to write songs about their problems," he said.

Regrets
Wang Feng said he regretted becoming an addict: "No one should ever touch drugs. I didn't feel high the first time I tasted a drink containing 'ice' (a street name for methamphetamine) at a night club, but there was something in it that pushed me to try it a second time (when the drug did have an effect). I couldn't help looking for the same sort of feeling when I tried to shake off a bad mood a few days later. Things quickly got out of hand after I tried ice a second time."
The 34-year-old former employee of a financial company in Tianjin, a municipality in North China, said that over the past two years he had repeatedly turned to drugs when he felt frustrated or depressed, usually after conflicts at work.
"I have written a song dedicated to my mom in the hope of repaying her unfailing love for me. After she learned that I was using illegal drugs, she said she would not walk away from me, even if it cost the whole world to save me. Her words made me think about the meaning of my life and my responsibility to my family," he said.
Like Wang, the three other members of the residents' band are musical novices who learned to play simple percussion instruments such as tambourines and maracas during their time in the center.
Li Xingmiao, a police officer who played electronic drums with the residents at the concert, said performing with people who are isolated from society strengthens communication between them and helps the officers to understand the residents' feelings and behaviors.
Musical therapy is just one of a number of initiatives designed to bring psychological treatment into the center's rehabilitation program.
"I visit the rehab center once a week and arrange for the residents to watch movies I choose. I usually pick specific characters from the movies and explain to the residents how people can better manage their emotions when they are in a predicament," said Shao Ran, a psychological therapist who works for Yingchen Education Technology Co.
"The residents gradually began to discuss the personalities of the characters in the movies. It's helpful because they have started to realize that no one can have a perfect life and everybody has to learn to deal with unpleasant things occasionally," Shao said.
In addition to the music and movie workshops, a therapeutic community-based approach that was introduced a few years ago has become an effective rehabilitation tool. A couple of times a week, the residents are organized into groups to discuss their life stories and share their experiences during the rehabilitation program.
New dangers
Duan Jinfang, a police officer at the center, said 95 percent of the 200-plus addicts in the facility are hooked on drugs that have been introduced relatively recently, such as methamphetamine, and are known as "new psychoactive substances", or NPS.
"Unlike traditional drugs, such as heroin, which produce obvious physical symptoms of addiction, these new types of drugs bring about psychological triggers that cause addictive cravings," she said.
According to Duan, a large number of the center's residents were either raised in unfavorable circumstances or have experienced hard times. As a result, they were psychologically incapable of saying no when exposed to psychoactive substances.
During her decade at the center, Duan has met several residents who fell victim to apparently innocuous substances such as "coffee", or were urged to try a new brand of "chewing gum", without being aware that the products had been laced with highly addictive narcotics.
In August, the Beijing Municipal Public Security Bureau discovered a new threat, and detained 19 people for using and selling "stamps", small squares of perforated blotting paper similar to sheets of stamps that had been smeared with Lysergic Acid Diethylamide, a potent psychedelic better known as LSD.
The drugs were distributed and sold via a courier service by two employees of a Beijing nightclub who were supplied by a foreign national.
Unlike China's "second generation" drugs, such as methamphetamine, "third generation" narcotics such as "stamps" and "coffee powder" are often hidden in food and snacks, which makes them easy to market and deliver via courier services.
Legal loopholes
The problems posed by the use of NPS have been exacerbated because some of the substances used in the newly synthesized drugs are not classed as illegal under China's narcotics laws.
Although codeine was included in the China Food and Drug Administration's list of controlled substances last year, it took nearly a decade for the administration to make the move because the drug was widely used to treat coughs and was available without prescription. That was before codeine was discovered to be a harmful psychoactive substance when consumed in large doses, such as bottles of cough syrup.
Experts say that most users fail to understand how severe their dependence on NPS will become when they first begin to use them. Many feel that they can quit at any time, but it is always too late for them to realize that their hopes are wishful thinking.
Under the Anti-drug Law of the People's Republic of China, which came into force in 2007, anyone caught using illegal drugs a second time must submit to the two-year isolation and rehabilitation process, which causes misery for them and their families.
In Beijing, repeat offenders have to stay at the Compulsory Rehabilitation Center for a minimum of six months' strict isolation before being sent to a separate facility for follow-up treatment.
"Prevention is always better than cure. Public awareness of the disastrous effects of drugs should be raised, and preventative measures should be strengthened to prevent these new types of drugs from coming onto the market," Duan said.
Contact the writer at zhang_yi@chinadaily.com.cn