Adolescents in China are getting taller, but weaker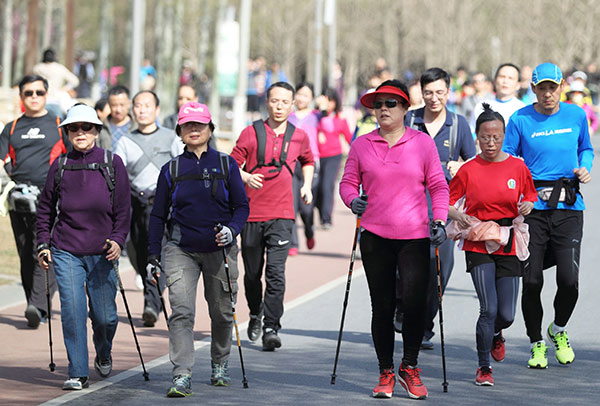 People exercise in Olympic Forest Park in Beijing. A JING/CHINA DAILY
Beijing's Olympic Forest Park is busiest after sunset, when adults go for an after-dinner stroll or a run.
Children are there too, but seldom do teenagers show up. Teens are generally at home, working on math or English grammar. But while they are getting higher scores, they are also getting fat, weak and lazy.
Seven national surveys on the health of China's adolescents from 1985 to 2014 show a decline in fitness, despite better nutrition.
"In 1989, male students would 'fail' physical exams if they took more than three minutes and 55 seconds to run 1,000 meters. That standard was lowered to four minutes and 32 seconds in 2014," said Wang Zongping, a motor development specialist at Nanjing University of Science and Technology.
According to the 2014 survey, Chinese students are taller and bigger, but they are also fatter and have worse eyesight. Lack of exercise is seen as the main culprit.
"Our survey found that more than half of male students with junior middle school education and above can't complete a single pullup," Wang said.
Even when they enter college, they maintain their couch potato lifestyle. More than 84 percent of college students exercise less than one hour every day, with 27 percent reluctant to go for a run. Instead, they spent most their time doing homework and playing games online.
Back in the 1980s, students enjoyed a variety of athletic and gymnastic activities, but much of the equipment was removed from campuses in the 1990s due to parental complaints.
"If a student gets injured in class, the school is blamed," said Shi Fei, a PE teacher.
With only one child in most families, they are pampered and over-protected.
Injuries are normal during exercise, and are helpful for a person to better understand their own bodies, Wang said.
"We care too much about developing children's IQ, and too little about their motor skills, team spirit and resilience. These 'invisible' capabilities can only be obtained through outdoor activities," Wang said.
Government support
According to the Healthy China 2030 plan issued in October, healthier kids require better sports facilities.
Total "exercise space" will be increased to at least 2.3 square meters per capita by 2030, in contrast to only 1.5 square meters today. That means more running and cycling tracks, more gymnasiums and more school fields. The plan also calls for at least one hour of strenuous physical activity three times a week for all students.
"Healthy China should begin with Sporting China," Wang said. "Schools should encourage students to step out of the classroom and onto the playing field. We should restore the health and happiness of our young people."