Ties at key point, Xi tells Kissinger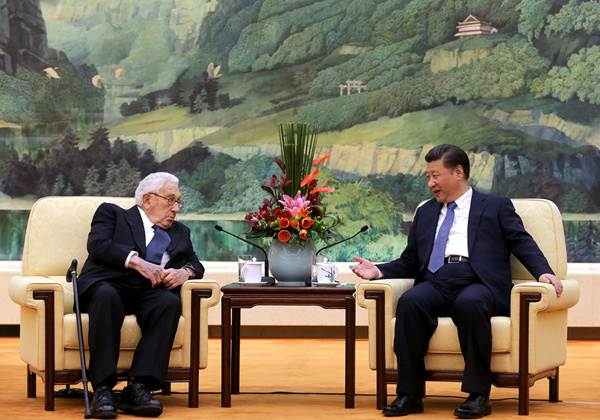 President Xi Jinping meets with former US secretary of state Henry Kissinger in the Great Hall of the People in Beijing on Friday. Xi called Kissinger's visit timely, as bilateral relations face a period of transition. XU JINGXING / CHINA DAILY
China hopes its relations with the United States will "move ahead in a sustainable and stable manner", President Xi Jinping said on Friday while meeting with Henry Kissinger.
The former US secretary of state came to Beijing amid uncertainties over US president-elect Donald Trump's China policy.
Kissinger, 93, who helped arrange the groundbreaking visit to China in 1972 by then-president Richard Nixon, is believed to be playing a key role in mapping out Trump's foreign policy.
Trump will take office on Jan 20.
"Dr Kissinger, your visit is very timely, and we look forward to hearing your views on China-US relations going forward," Xi said.
Noting that he had met with US President Barack Obama in Lima, Peru, and talked with Trump by phone last month, Xi said that the two countries now face a key moment.
"We are watching the situation very closely. Now is a period of transition," he told Kissinger.
Xi said that the common interests of China and the US far outweigh their disagreements, and the two countries should handle their disputes properly in a constructive way.
Calling himself "an old friend of the Chinese people", Kissinger said that the US-China relationship is important for both countries as well as for the rest of the world.
The incoming US administration also expects to push forward sustainable and steady bilateral relations, he said.
Kissinger said he would like to play a positive role in enhancing communications between the two countries.
On Nov 17, Trump met with Kissinger in New York to discuss "China, Russia, Iran, the EU and other events and issues around the world", according to a statement from Trump's team, and they "had a great meeting".
"I have tremendous respect for Dr Kissinger and appreciate him sharing his thoughts with me," the statement quoted Trump as saying.
Before meeting with Xi, Kissinger met with Wang Qishan, China's top anti-corruption official, on Thursday. He told Wang that he would like to contribute to the healthy development of US-China ties, according to Xinhua News Agency.
Li Haidong, a professor of US studies at China Foreign Affairs University, said Kissinger can serve as a communicator and bridge between top decision-makers of the two countries.
"He can convey to Chinese leaders Trump's views on bilateral relations and vice versa," Li said, adding that Trump, a political novice, needs seasoned diplomats like Kissinger to help him form an objective and balanced relationship with China.
Chinese leaders attach great importance to Kissinger's visit, respect him for his role in promoting Sino-US relations and hope he can further elevate bilateral relations, Li added.
Tao Wenzhao, a researcher of Sino-US relations at the Chinese Academy of Social Sciences, said the US is undergoing a transition period, which creates diplomatic uncertainty.
As a pioneer who opened the door for Sino-US relations, Kissinger played such an important role that all the previous US presidents consulted him on foreign policies, Tao said.