'Pink Economy' set to soar as companies target LGBT community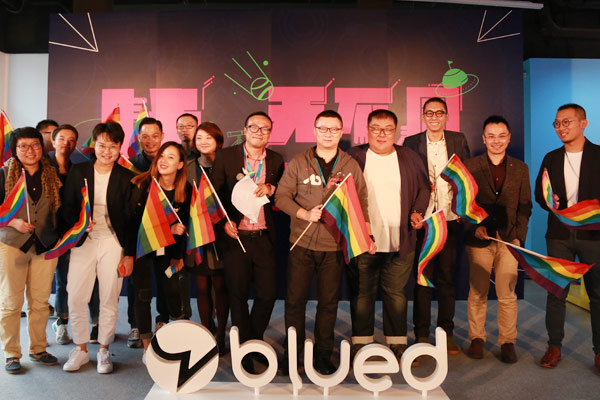 Contestants and organizers pose for a photo at China's first Pink Economy Innovation and Entrepreneurship Contest that was held in Beijing in October. The competition was aimed at companies hoping to provide goods and services for the country's LGBT community. [Photo by Blued/provided to China Daily ]
A new business model is coming to China as entrepreneurs begin developing products for the rapidly emerging market. Shan Juan reports.
Zhu Qiming, CEO of mobile game developer Star-G Technologies, foresees rosy prospects for China's emerging "pink economy", a new business model that caters mainly to the lifestyles and demands of the LGBT community.
Zhu's company, a startup in Beijing, has received several rounds of investment after releasing a business plan to design and develop mobile games exclusively for gay men in China.
"With rising social tolerance, people in the LGBT (lesbian, gay, bisexual, transgender) community have begun to demonstrate their identity and meet other members of the community through a range of social activities, including games," he said. "I see strong demand going unfulfilled, and that provides us with 'pink' opportunities."
Zhu first found inspiration in a popular mobile game, Green Mountain Fox Legend, which allows virtual marriages among players, regardless of gender.
"It's not a gay game, but that novel function managed to lure many supporters from the LGBT community," he said. "We see a lot of same-sex unions in the game."
The dearth of mobile games targeting the LGBT community is exactly the sort of opportunity that startups such as Zhu's have been looking for, because the mainstream game market is dominated by large, established companies and a specialty product is "our last chance".
The company is now developing three mobile games targeting gay players, known as "gaymers."
One is an openly gay role-playing game that allows gaymers to choose their own images, clothes and accessories, such as watches and jewelry. It will allow players to network and interact with their peers, and even marry (within the game). Tying the knot makes couples eligible to participate together in assigned tasks, such as planting trees and fighting monsters, he said.
The game also allows couples to upload their own photos and display them for other players to rate. If the couple gets enough points, they can receive "virtual gifts" such as fancy tuxedos and brand-name watches.
Zhu said the game will be open to straight men, but "it's a queer thing-I don't think straight people would appreciate it."
As a 32-year-old well-educated gay man, Zhu said his claim is not only based on his own experience and emotions, but also on investigation and analysis. According to Zhu, the essential ingredients of games for gay men are good-looking characters, common hobbies-such as working out, healthy lifestyles and fashion-and a touch of eroticism.