'Pink Economy' set to soar as companies target LGBT community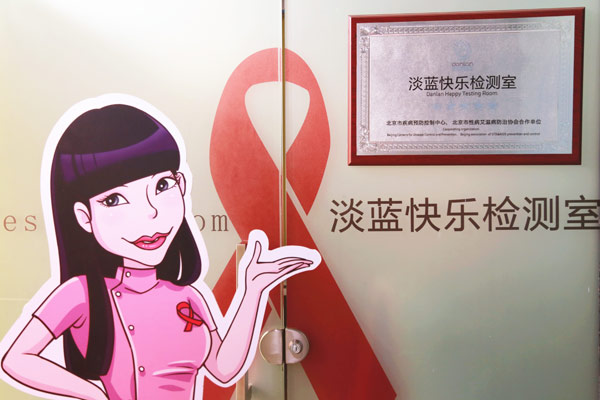 The reception desk at a free HIV-testing site in Beijing run by Blued, which features an image of pop singer Wu Mochou as its promotional ambassador.[Photo by Blued/provided to China Daily]
Positive signs
Zhao Ke, editor-in-chief of Gayspot magazine, said the fact that the community has managed to attract attention in a neutral, unbiased manner is a positive sign, because for many years, LGBT people, particularly gay men, were only mentioned in the context of HIV/AIDS control and prevention.
Wu Zunyou, director of the National Center for AIDS and Sexually Transmitted Disease Control and Prevention at the China Center for Disease Control, said that perception is not altogether surprising given that gay men are at greater risk of contracting HIV/AIDS compared with other susceptible groups such as sex workers and people who inject drugs.
Sentinel surveillance conducted by the center shows that in some cities one in 10 gay men tests positive for HIV, while the national prevalence of HIV among the straight community is 0.06 percent.
Wu Hao, director of the Department of Infectious Diseases at You An Hospital in Beijing, one of China's largest HIV/AIDS treatment centers, said more than 80 percent of HIV/AIDS cases diagnosed so far this year were gay men.
He urged businesses that target the LGBT community to embrace social responsibility, and emphasize AIDS prevention and control in their products.
According to Geng, Blued's platforms-including the dating app, the website, and the live-stream-offer value-added services that provide users with information about HIV prevention and support.
"The provision of such services helps to protect our users from HIV while providing us with a better relationship with the government and a smoother development environment," he said.
In addition to the online delivery of services, such as HIV prevention education, Blued has partnered with Beijing's disease control and prevention departments to establish HIV testing sites that provide free tests.
Feng Zi, a gay man in Beijing and an active Blued user, said that every three months he receives an alert via the app reminding him to take a free HIV test.
"I meet friends and land dates there, but they (Blued) are also responsible for protecting me from HIV/AIDS," he said.
Contact the writer at shanjuan@chinadaily.com.cn