Donations for sick girl to be returned after outcry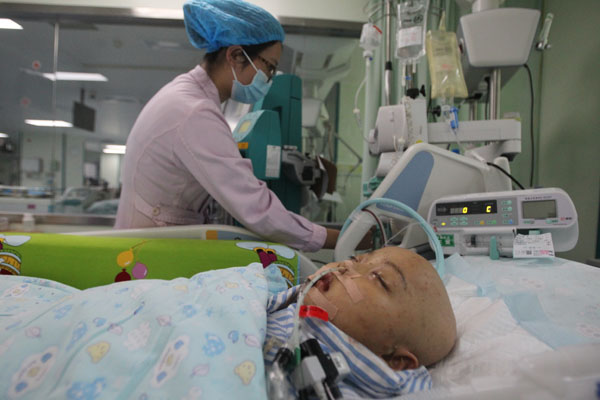 Luo Yixiao receives treatment at Shenzhen Children's Hospital in Guangdong province on Tuesday.[Photo provided for China Daily]
Patient's father owns an apartment in Shenzhen as well as two additional properties in Dongguan
More than 2.6 million yuan ($380,000) raised online by a father for his seriously ill daughter will be returned to the donors following public outcry over his alleged lack of honesty about the family's economic situation, according to a joint statement on Thursday.
Luo Yixiao, 5, from Shenzhen, Guangdong province, was diagnosed with acute lymphocytic leukemia in September and her condition worsened earlier this month.
Her father, Luo Er, posted a heart-wrenching story about his daughter on WeChat on Friday last week, asking for financial help. The post went viral and more than 110,000 people had donated 2.53 million yuan ($367,000) as of Wednesday.
Luo Er, a magazine editor, also agreed to Liu Xiafeng, a former colleague and founder of Xiaotongren, a marketing company specializing in internet finance, posting his daughter's story on the company's WeChat account on Sunday.
Readers of the post had also donated more than 110,000 yuan as of Wednesday.
However, it was reported on Wednesday that Luo Er owns an apartment in Shenzhen and two more properties in neighboring city Dongguan, which was not mentioned in his plea for help.
Luo Er confirmed the reports, but told local media that the two apartments in Dongguan cannot be sold at present due to a property-rights issue.
The reports led to widespread doubt over his claimed inability to finance his daughter's medical expenses, with many netizens saying their kindness had been taken advantage of.
According to a joint statement by Luo Er, Liu, WeChat and Shenzhen Civil Affairs Bureau, all donations will be returned to the donors.
According to a statement on Wednesday by Shenzhen Children's Hospital, where Luo Yixiao is hospitalized, the girl's total medical fees since September have reached about 200,000 yuan, with her family needing to pay about 36,000 yuan and insurance covering more than 80 percent of the cost.
The girl is in "critical condition" at the moment, and the hospital is working with doctors from Toronto's Hospital for Sick Children on her therapeutic schedule, the statement said.
Liu initially promised that his company would donate 1 yuan for each repost, up to a total of 500,000 yuan. The number of reposts surpassed 500,000.
The company was accused by netizens of employing the posting of the story as a marketing tool.
The joint statement did not state how donations received by the company would be dealt with.
In an earlier statement by Luo Er and Liu on Thursday, they had pledged to use the donations to establish a foundation to help children with leukemia, given donors' permission, adding that they would apply for financial aid for Luo Yixiao's treatment according to regulations.
Legal experts said it is legal to raise money for a family member in difficulty, but added that donors have a right to ask for their money to be returned if important facts are "intentionally concealed".
According to data from the Chinese Red Cross Foundation, about 20,000 children in China are diagnosed with leukemia each year, while the annual income of three-quarters of the families involved is less than 30,000 yuan.