Dad flooded with criticism after journals about daughter's leukemia go viral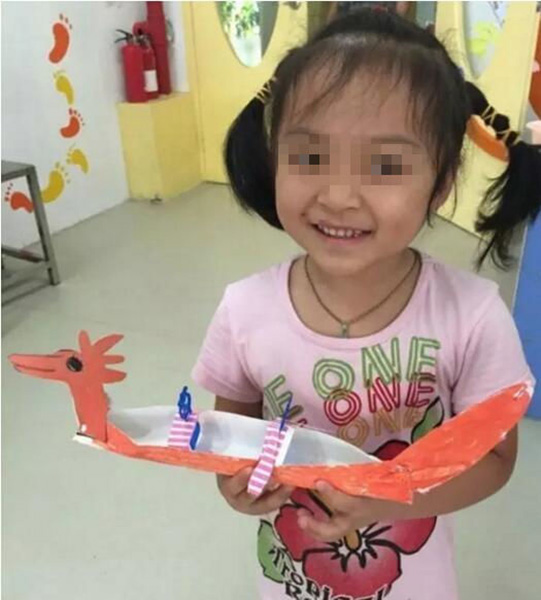 Luo Yixiao.[Photo from web]
A child named Luo Yixiao has become a buzzword on WeChat, as tens of thousands of users repost her father's heart-wrenching missives. The father's journals, which contain a call for help in curing his daughter's leukemia, have already raised 2 million RMB, including 500,000 RMB of promised "aid" from a company for the father.
Luo Yixiao, 5, hails from Shenzhen, Guangdong province. She was diagnosed with leukemia in September. Her father, Luo Er, first began to collect donations via his personal WeChat platform, on which he kept journals about his daughter's progress. By Sept. 21, Luo had collected over 32,000 RMB after his journal entries were reposted thousands of times.
The young girl's condition worsened early in November, and her father attempted to widen the repost-donation circle by opening more donation access points on WeChat. Marketing company Xiaotongren, which is owned by Luo's friend, was also invited to help promote the journals. According to agreement between Luo and Liu, Xiaotongren would donate 1 RMB for each repost of the journals published on the company's WeChat account.
"If you repost the story, 1 RMB will be donated by a company to help Luo's family." This comment and similar mentions had proliferated across social media by Nov. 30, with millions repostintg Luo's journals and encouraging others to do the same.
By Nov 30, Xiaotongren had received more than 2 million RMB on its WeChat donation platform alone. Some 500,000 will be donated to support the sick girl, and the rest will be given to other charity programs, a company representative told news site Thecover.cn.
Meanwhile, Luo admitted that he initially allowed the company to repost and publicize his journals because it would also help the company gain popularity on WeChat. Almost all the journal entries have been read by millions each day since Nov. 27, news site Ycwb.com reported.
Amid the frantic reposts, some whistleblowers allege that Luo's family in fact owns three apartments in Shenzhen and has no financial restrictions when it comes to the young girl's health. Media also revealed that Luo has been receiving personal donations from journal readers amounting to least 50,000 RMB per day through WeChat's "reward" function.
However, no government body or public charitable organization has yet confirmed any such large-scale donation.
It is unknown exactly how much the family and company have collected after days of widespread reposts, or how much will actually be used for Luo Yixiao's treatment. Since the disease is covered by government-sponsored health insurance, it is also unclear what percentage of the treatment cost will be reimbursed.
Luo wrote in the latest journal on Nov. 30 that enough money had been collected to cover Luo Yixiao's medical costs, which allegedly add up to thousands of RMB every day.