Leading from the front: Peng Liyuan's fight against AIDS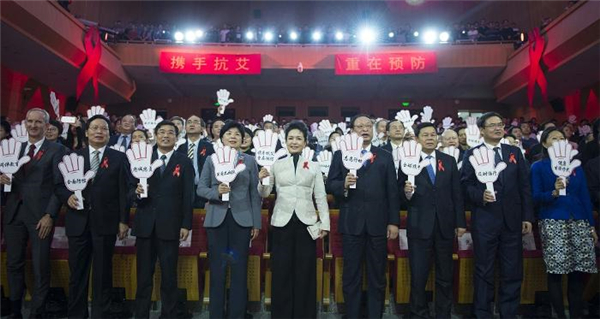 First lady Peng Liyuan (middle, first row) in a group photo at an event ahead of the 29th World AIDS Day, at Beijing University of Aeronautics and Astronautics in November 2016. [Photo/gov.cn]
Today marks the 29th World AIDS Day, a day that unites people across the world in the fight against HIV and display of support for those living with HIV.
China's first lady Peng Liyuan is WHO's goodwill ambassador for tuberculosis and HIV/AIDS. She attended an event for this year's campaign at Beijing University of Aeronautics and Astronautics, according to the official website of National Health and Family Planning Commission.
She would "have a lasting impact in bringing awareness to two of the world's deadliest infectious diseases" and "reinforce international commitments to achieving the health-related Millennium Development Goals", said WHO's Director-General Margaret Chan in her statement on Peng's appointment as goodwill ambassador on June 3, 2011.
From appearing in videos aimed at raising public awareness to attending diplomatic events calling for closer global cooperation, Peng has been busy campaigning against AIDS for five years. Let's have a close look at Peng and her dedicated efforts to control the spread of one of the most deadly diseases on the planet.
Click here to watch the video which first lady Peng Liyuan calls for end of discrimination against HIV/AIDS patients in 2014.