First lady tours Peruvian art museum
China's first lady Peng Liyuan, together with the wives of other APEC leaders, visited the Larco Museum in the Peruvian capital on Saturday.
The private museum, founded in 1926 by Rafael Larco Hoyle, is in Lima's Pueblo Libre district and showcases a collection of pre-Columbian art that chronicles 4,000 years of history.
China and Peru should share more art with each other to enhance their friendship, Peng told her Peruvian counterpart, Nancy Lange Kuczynski, who hosted the museum visit.
After seeing the ceramics exhibition, Peng spoke on the development of China's ceramics, saying that her nation also has a long history of ceramics manufacturing dating back thousands of years.
Symbolized by tangsancai - the tricolor glazed ceramic horses and camels of the Tang Dynasty (618-907) - China's ancient ceramics craft was advanced, she said.
Peng, a popular singer and a professor of music, has visited many museums while accompanying President Xi Jinping on trips overseas.
In June, she visited Warsaw's Fryderyk Chopin Museum with Agata Kornhauser-Duda, the wife of Polish President Andrzej Duda. She visited Queensland Museum in Brisbane, Australia, in 2014, and the Palm Springs Art Museum in California, the United States, in 2013.
In late 2014, Peng hosted a museum tour, inviting wives of the leaders of some Asian countries and members of the Shanghai Cooperation Organization to visit Beijing's Capital Museum, which houses exhibitions on ancient Chinese porcelain, traditional culture and folk art.
anbaijie@chinadaily.com.cn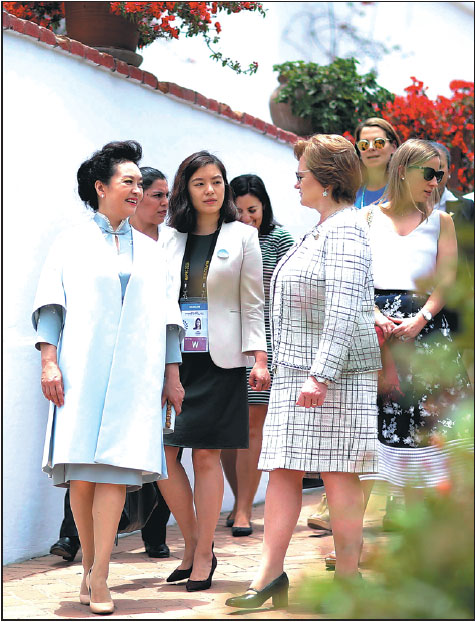 Peng Liyuan, the first lady, joins the wives of other APEC leaders on Saturday, including her Peruvian counterpart, Nancy Lange Kuczynski, for a visit to the Larco Museum in Lima.Ding Lin/ Xinhua