First lady visits school in Peru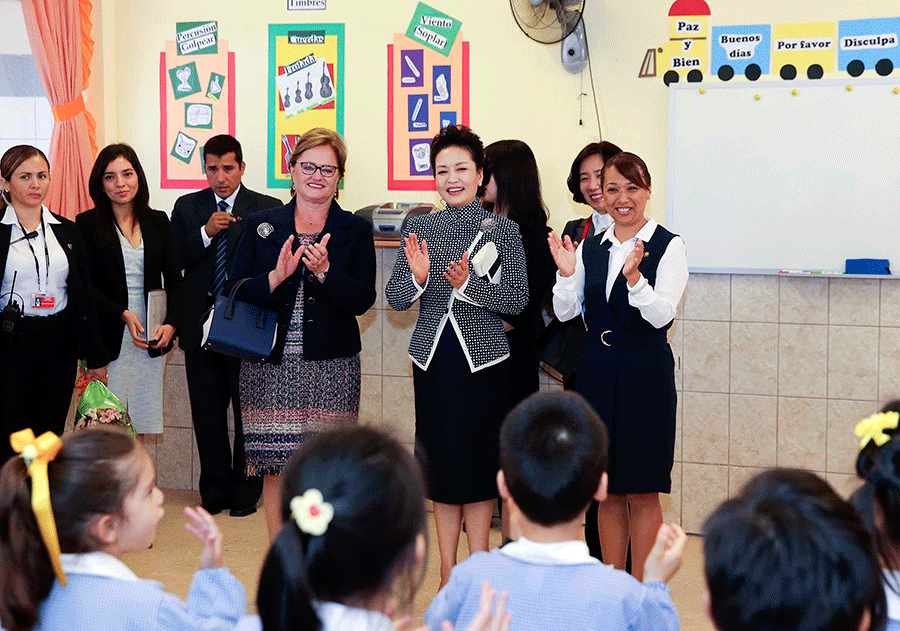 First lady Peng Liyuan applauds as kindergarten children sing Chinese songs "Good mother" and "Birthday song". Peng encouraged the students to learn the Chinese language well and welcomed them to China. [Photo/Xinhua]
First lady Peng Liyuan visited a school with China roots in Lima, capital of Peru, on Monday. She is accompanying President Xi Jinping who is on Latin America tour.
She was welcomed by the students of Colegio Peruano Chino Juan XXIII who played the folk song Jasmine Flower (Molihua) when she arrived at the school in the morning.
Peng presented them China's donations, including instruments, stationery and sports equipment, to the school. She extended her wish of seeing more talents cultivated by the school.
China would like to enhance cooperation with Peru to provide better basic education for the children and make joint efforts to educate the young generation, she said, adding that the school should make contributions to strengthen China-Peru friendship.
The school was founded in 1962 at the initiative of Bishop Orazio Ferruccio Ceol who accepted the invitation of Pope Pius XII to come to Peru as a missionary to the Chinese community after 19 years of missionary apostolate in China. It was Pope John XXIII Who gave the initial decisive impulse to the creation of the school, with the first financial contribution to its construction.
During the visit, Peng attended the kindergarten courses and listened to children singing Chinese songs. The school teaches courses in Chinese language, kung fu, and Chinese traditional dance. She then attended a high-school class of Chinese language study.
The students also performed traditional Chinese lion dance, chorus, kung fu, fan dance and children costume show.
Contact the writer at anbaijie@chinadaily.com.cn