Xi arrives in Peru for APEC meeting, state visit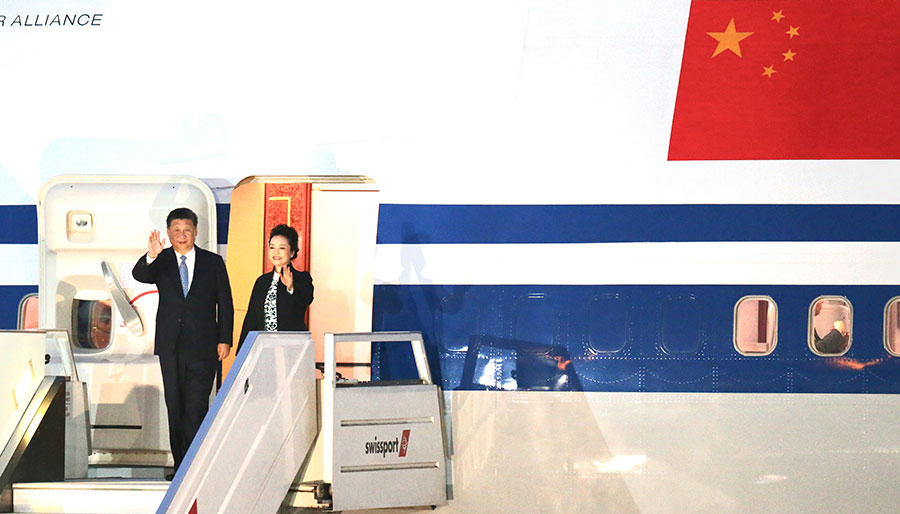 Chinese President Xi Jinping and his wife Peng Liyuan wave as they arrive at the airport in Lima, Peru, Nov 18, 2016.[Photo by Ding Lin/Xinhua]
LIMA - Chinese President Xi Jinping arrived in Peru Friday to attend the upcoming Asia-Pacific Economic Cooperation (APEC) Economic Leaders' Meeting and pay his first state visit to the Latin American country.
Prior to the trip, Xi had visited neighboring Ecuador. The APEC meeting is scheduled for Nov. 19-20 in Peru's capital Lima under the theme of "Quality Growth and Human Development."
"My visit aims to strengthen friendship, expand common grounds, deepen cooperation and promote development," Xi said while delivering a written speech upon arrival at the airport in Lima.
The president briefly reviewed the sound China-Peru relations in various areas over the past years, noting that the two countries enjoy broad prospects of cooperation.
"China supports Peru in hosting the 24th APEC Economic Leaders' Meeting, and I'm looking forward to meeting with Peruvian leaders to have in-depth exchanges of views on bilateral relations and on major international, regional issues of common concern," he said.
"I believe, with concerted efforts of both sides, my visit will achieve a complete success," he added.
Xi and his wife, Peng Liyuan, were received by Peruvian Second Vice President Mercedes Araoz at the airport.
Hong Kong Chief Executive Leung Chun-ying, who is here to attend the APEC Economic Leaders' Meeting, also greeted President Xi at the airport.
Before leaving Ecuador on Friday afternoon, Ecuadorian President Rafael Correa held a grand seeing-off ceremony for Xi.