Xi arrives in Peru for APEC meeting, state visit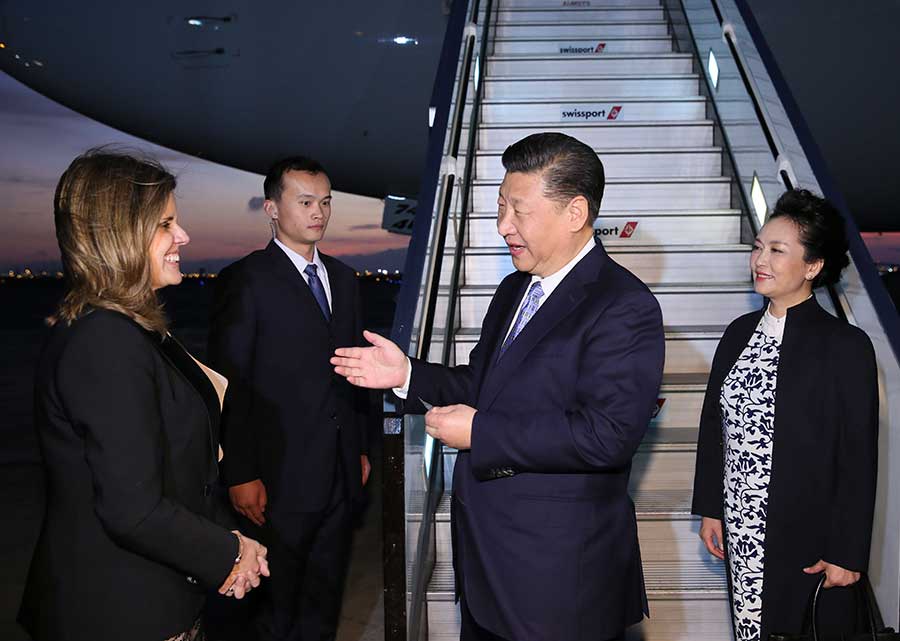 Chinese President Xi Jinping and his wife Peng Liyuan arrive at the airport in Lima, Peru, Nov 18, 2016.[Photo by Lan Hongguang/Xinhua]
In Lima, Xi will deliver a keynote speech at the APEC CEO Summit, hold dialogue with representatives of the APEC Business Advisory Council and meet leaders of some other APEC member economies.
This year's APEC Economic Leaders' Meeting comes as the global economy is still struggling to recover, with flagging trade and investment, rising protectionism and fragmented trade rules.
China, as the world's second largest economy, has called for safeguarding the global free trade system and opposing protectionism in any form.
After attending the APEC meeting, Xi will pay his first state visit to Peru, only about two months after his Peruvian counterpart Pedro Pablo Kuczynski -- who was sworn in on July 28 -- made his first foreign visit to China.
Xi will hold talks with Kuczynski, meet President of Peruvian Congress Luz Salgado and give a speech at the Congress. The two heads of state are also scheduled to attend the closing ceremony of the China-Latin America and Caribbean 2016 Year of Culture Exchange.
This year marks the 45th anniversary of diplomatic ties between the two countries, which have witnessed long-term friendly relations and wide-ranging cooperation.
After Peru, Xi will travel to Chile, the final stop of his current three-nation tour of Latin America.
It is Xi's third visit to Latin America as president since taking office in 2013.
When addressing the Peruvian Congress, Xi is expected to expound on the thriving momentum of the comprehensive cooperative partnership China has forged with Latin America and the Caribbean, and make new proposals on propelling their cooperation.