Peru comes to the table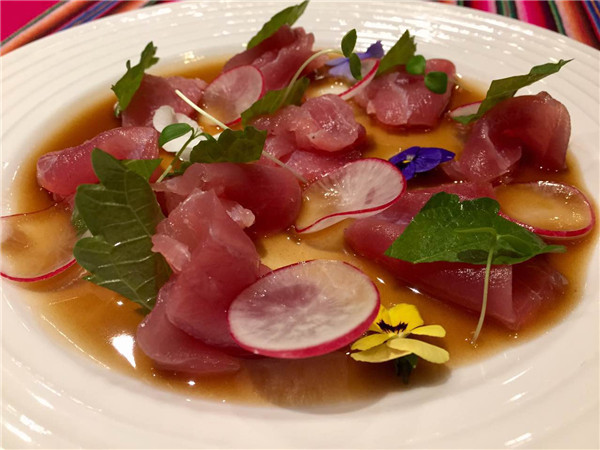 Nikkei-style tiradito with tuna. [Photo provided to China Daily]
With all eyes on Lima on the weekend, three Peruvian siblings are eager to share their country's globally popular cuisine with Beijing diners, Mike Peters reports.
When China's President Xi Jinping went to London last year, pictures of him eating fish and chips and sipping a pint of Greene King IPA with the British prime minister went viral in China.
Over the weekend, the president was in Lima, Peru, for the APEC summit, where both affairs of state and the dinner menu were hot topics.
So we might wonder: Could Peruvian ceviche and pisco sours be the next big thing in Beijing?
"That would be cool," says Francisco Chia, who by pure coincidence last weekend was hosting the grand opening of Beijing's new nighttime Peruvian restaurant, Pachakutiq. (The name is a mouthful: The original Pachakutiq was the ruler of Cuzco who launched the Inca era of conquest that spread an empire across much of South America.)