Chengdu in Sichuan province and San Francisco have resolved to further deepen friendly city relations, with greater collaboration among companies on both sides and various bilateral events being staged.
The two cities signed an agreement to establish a friendly cooperation relationship in October last year, following the establishment of formal exchanges in 2013.
The two cities were first linked by a non-stop air route in June 2014, when United Airlines launched the Chengdu-San Francisco direct flight, the first direct flight linking China's central and western regions to the US.
Edwin Lee, mayor of San Francisco, said his city attaches great importance to cooperation and exchanges with Chengdu, and he is optimistic about the bilateral ties.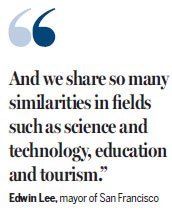 "Both cities take innovation as the engine for city development. And we share so many similarities in fields such as science and technology, education and tourism," he said.
Thanks to its opening-up in recent years, Chengdu has turned into a top destination for international companies to invest in western China.
It is home to 278 Fortune Global 500 companies, including a number of high-tech names from Silicon Valley, such as Oracle, Intel, Hewlett Packard and Cisco. Local officials in Chengdu expect to draw more talents, companies, high-tech projects and capital from San Francisco to Chengdu as the two sides deepen cooperation, providing strong support to build the Chinese western hub into a nationally central city.
Exchange events
Todd Rowe, global managing director for channels sales at Google's Global Marketing Solutions, said the food and cultural festival held earlier this month has strengthened ties between the two cities and will open a gateway for further cooperation.
"Chengdu is a dynamic city. Its large talent pool, competitive high-tech companies and huge economic scale create great development potential," he said, adding that the advanced flight networks also add wings to Chengdu's development.
Rowe said Google is considering increasing its presence in Chengdu by developing its collaboration with the region's companies over a wider range of sectors.
"Our target is to establish cooperation with 1,000 companies in Chengdu,"he said, adding that Google is currently helping small and medium-sized enterprises in Chengdu to expand in the overseas market. The internet giant has set up an experience center in Chengdu and has cooperated with 25 companies from the city.
Bart Fregoso, genernal manager for Cisco's Asian Affairs, said his company is looking to work more closely with Chengdu in scientific and technological innovation.
"The food and cultural festival is the first step for our staff to know about Chengdu," he said. During the food and culture festival, Chengdu sent invitations to high-tech companies in Silicon Valley, inviting them to co-organize a charter flight tour to Chengdu.
The city also invited high-tech talents from Silicon Valley to attend next year's Chengdu Global Innovation and Entrepreneurship Fair, an international platform that mainly promotes the exchange and transaction of innovative ideas and technological achievements.
Vaughan Smith, vice-president for corporate development at Facebook Inc, said he was interested in attending both activities. "The fast-paced economic growth and profound cultural background of Chengdu really impress me," he said.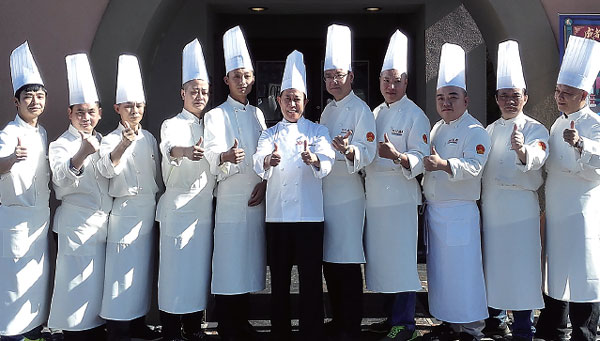 Top chefs from Sichuan province aim to promote the taste of local food to people around the world at the 2016 Chengdu Food & Cultural Festival.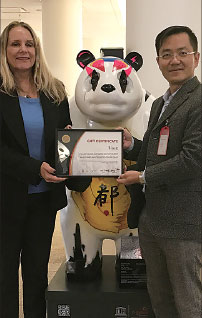 Zhang Jiao (right), deputy secretary of the Chengdu Cuisine Association, gives a panda gift to a representative from payment technology company Visa Inc during the event.
(China Daily USA 12/02/2016 page11)