In the Sabah pavilion at the 2016 Guangdong 21st Century Maritime Silk Road International Expo, Ming Lee is introducing the eastern Malaysian state's tourism products in detail to a Chinese visitor.
It is the first time she has attended the event. As a sales and marketing executive of Sabah-based travel agency Kayworld Travel and Tours, Lee believes attendance at the expo will help her company gain better access to the Chinese market, which has already become the world's largest source of outbound tourists.
"The number of Chinese tourists to Sabah is growing very quickly. China has become our company's main target market for the coming years," Lee said.
"Previously, we could only answer inquiries from Chinese customers through email or our WeChat account. Now, by exhibiting our tourism products at the expo, people can gain better knowledge of our company and products, which will help boost our business."
The expo, held in Dongguan, Guangdong province, from Oct 27 to Oct 30, is a platform for countries and regions along the 21st Century Maritime Silk Road to explore business opportunities and increase cultural exchanges. Exhibitors from 52 countries and regions attended this year's event, with 39 setting up their own pavilions.
The expo aims to promote opening-up and transformation of foreign trade in Dongguan and across the country, Dongguan Party Chief Lyu Yesheng said at the opening ceremony of the annual event.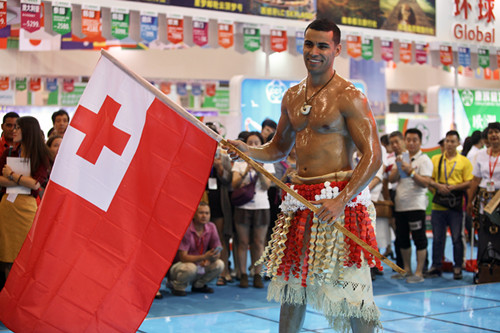 Tongan flag bearer Pita Taukatofua who stole the Rio Olympic opening ceremony show comes to the Guangdong 21st Century Maritime Silk Road International Expo in Dongguan on Oct 27, 2016. [Photo by Cao Xueqin]
Economic and trade cooperation between Dongguan and countries and regions along the maritime route has been expanding over recent years.
Export and import trade volume between the two sides reached $29.12 billion last year, representing 18.1 percent year-on-year growth, according to official statistics.
Known as China's manufacturing hub, Dongguan exported a total of $16.73 billion worth of products to maritime road countries and regions in 2015, rising 25.2 percent compared with a year earlier.
Meanwhile, $12.39 billion worth of commodities were imported to Dongguan from maritime route countries and regions in the same year, a 9.6 percent yearly increase.
The expo not only attracted a large number of business people who hope to showcase their specialties, but also buyers from all over the world.
"By gathering products and services from around the world at a single place, the expo enables us to find what we need easily," said Chama Chisenga, a buyer from the government of Lusaka, capital city of Zambia.
"Through the expo, we managed to contact several companies producing machinery used in construction and agriculture and will make further exchanges with them for cooperation after the event."