TV reveals grim reality of life in China's hospitals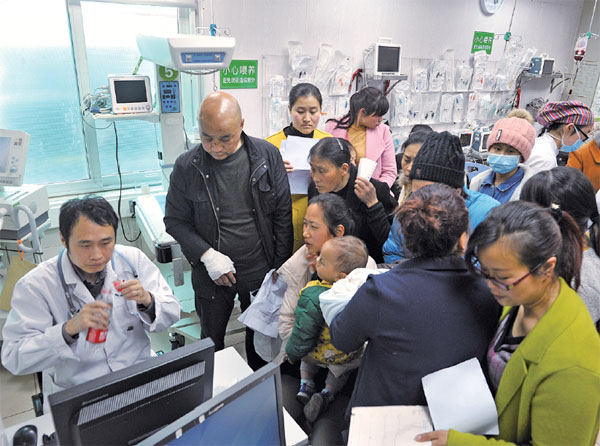 Hu Fan (left), a doctor in the emergency room at the West China Women's and Children's Hospital in Chengdu, the capital of Sichuan province, deals with patients and their families. Hua Xiaofeng / For China Daily
A documentary series depicts the daily challenges faced by members of staff, the simmering threat of violence and harassment, and mutual distrust between doctors and patients. Zhou Wenting reports from Shanghai.
On Oct 21, the Supreme People's Procuratorate, China's top legal chamber, announced that cases involving violence against medical staff would be regarded as extremely serious, and the nation's best lawyers would work on case reviews to ensure the rapid arrest and prosecution of offenders.
The announcement signaled the latest move to curb the abuse and violence that have plagued the nation's hospitals in recent years.
Statistics released by the Supreme People's Court in May last year show that 155 attacks on doctors and nurses in 2014 resulted in severe injuries and even death. Last year's figures are not available, but the media reported 20 similar incidents nationwide in 20 days in June alone.
The scale of the problem has been highlighted by the TV documentary series, Renjianshi, meaning The Ways of The World of Men, jointly produced by the Shanghai Municipal Commission of Health and Family Planning and the Shanghai Media Group. The program was first broadcast during the summer, but was recently shown again after winning wide acclaim.
The series has 10 episodes, each dedicated to a particular topic, such as organ donation, hospice care and the ambulance service. The directors said the program aims to improve doctor-patient relationships by providing the public with the fullest possible picture of the situation in China's hospitals and the everyday work of medical staff.
Doctor-patient conflict
"Hospitals are such special places because sometimes they are the last defense against death, so there are conflicts between doctors and patients and their families when making decisions about treatment plans, and also when the treatment doesn't save the patient's life," said Dong Luxiang, one of the program's directors.
"But after spending many, many hours shooting footage in dozens of hospitals in the past two years, we found that medical approaches are sometimes limited, and the doctors have to compromise their dedication and passion to fit reality. This is common knowledge, but sometimes people forget."
In the first episode, Saving Lives, the team filmed two major surgical operations and three other patients being treated for serious conditions. Viewers were shocked when three of the patients died.
"That was unprecedented in Chinese television history, which has always cast a veil over 'failures'. But the world is never perfect and we have to face that fact," Dong said.
Yao Li, a nurse at an elite hospital in Shanghai, said clinicians want to save patients for the sake of their families, but also because of their own sense of worth and reputation: "We have a saying: 'The doctors want the patients to live even more than their own families do'."
That point was underlined by Che Zaiqian, a doctor in the emergency department of Ruijin Hospital in Shanghai, who was filmed during an unsuccessful 16-hour battle to save the life of a 24-year-old man with an intestinal hemorrhage.
"Very often the cases into which we put the most effort and emotion are unsuccessful. We assume younger patients have a better chance of survival because of their age, but we don't have the right to choose," said Che, who had worked 48 hours straight, assisting with the treatment of three patients, one of whom died.
The program also showed the heavy workloads faced by medical staff, such as Zhao Qiang, director of Ruijin Hospital's cardiac surgery department, whose team was filmed performing a heart transplant long after midnight, and Ge Junbo, director of the cardiovascular department at Zhongshan Hospital, who had severe hand cramps after performing surgery for several hours.
Heavy workload
The directors said one of the strongest impressions the team gained during the two years of filming was that the medical staffs' workload is too heavy.
Dong recalled that the batteries in the camera ran out of power when he followed a consultant surgeon performing an operation that was scheduled to finish at 5 pm, but lasted until midnight.
"We were feeling hungry and dizzy, so a nurse gave me some glucose. If I remember correctly, the concentration of glucose was 30 percent, but I finished it in one gulp, despite the overly sweet taste. But that's the life the doctors live, and it's like that almost every day," he said.
Medical staff arrive before 7:30 am every working day, irrespective of how far away they live or the weather, and they can never guarantee what time they will leave, he said.
According to Yao, the nurse, humor helps to ease the burden. "Sometimes we joke that a couple shouldn't work at the same hospital, otherwise the only time they will meet is during consultations," the 29-year-old said.
Sun Xiaolin, who has worked as a nurse at a hospital in Shanghai's Pudong district for four years, said the heavy workload and long hours have prompted her to look for another job. Many of her colleagues have already left the profession.
"I don't even dare to blink for the entire night when I monitor patients who have just undergone cardiac surgery, and sometimes we have to perform CPR at the end of an exhausting night. I brace my body and mind with just one thought: to save the patient. At that moment, I leave everything else behind, like the stomach cramps and menstrual pains I suffer sometimes," she said.
Every working night, Sun cares for more than a dozen patients singlehandedly: "They ring the bell to the nurses' station all night. In addition, I have to cope with unexpected incidents, such as patients' drunken relatives fighting with each other."
According to Yao, the younger generation will only want to become doctors when clinicians receive the respect they deserve: "Otherwise, when we get old, where will we find excellent doctors?"
Social factors
Dong and his team found that the process of bringing patients to the hospital involves a range of problems that grassroots medical workers have been unable to solve.
For example, sometimes ambulance drivers have no option but to explain to a patient's family that they have been held up by traffic jams during rush hour. Sometimes congestion delays relatives who are needed to sign permission forms for surgical procedures on behalf of the patient.
Moreover, some patients show little respect for the emergency room, which should be a green channel for those who require treatment urgently.
One episode of the program showed a patient from Hebei province who arrived at the ER at Shanghai Huashan Hospital nearly two months after a mild stroke. The doctors told him that the ER is for people with acute strokes, but the patient and his relatives insisted on being treated because they'd traveled a long way.
"We often meet patients like this and feel embarrassed," said Yu Hai, a neurologist at Shanghai's Huashan Hospital.
Insurance problems
The social medical insurance system presents another problem.
"People who have their medical insurance in a certain province but live elsewhere enjoy a different level of reimbursement when they go to the doctor or have surgery in their 'new' home province. This may stop some people from choosing the best medical plan, which may also be the most expensive," said Qin Bo, Dong's colleague.
Despite the problems, many people are confident that China's hospital culture is turning a corner and that doctor-patient relationships will eventually improve.
"When my daughter gave birth last year, she stayed in a private delivery room with her husband and a professional midwife at her side. Later, senior nurses came to the ward several times a day to tell the new mothers the dos and don'ts of taking care of themselves and their babies," said Wang Mingjuan, a 58-year-old Shanghai resident.
"The hospital also took photos of the newborns wrapped in cute ribbons as gifts to the families. Those services were hard to imagine when I gave birth three decades ago," she said.