Nuclear safety prioritized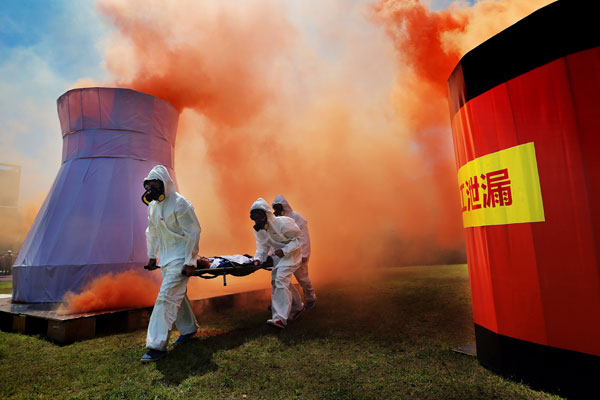 Rescuers transport an 'injured' person during a drill that simulated nuclear leakage in Taizhou, Zhejiang province, in 2015. [Photo/Xinhua]
Information on management rules and annual reports would be publicized
People will be better informed about nuclear-related information and be allowed to voice their opinions if they suspect they will be impacted by nuclear activities, according to a draft law released on Monday.
The draft law on nuclear safety, submitted to China's top legislature for first reading, highlights the need for transparency of nuclear information and the importance of public participation, requiring governments and departments of nuclear-safety operations to publish nuclear-related data and safety reports.
The draft is to be discussed in a bimonthly session of the National People's Congress Standing Committee, which will run through Nov 7.
"China has made efforts to develop its nuclear industry in recent years, but following some high-profile nuclear accidents worldwide, how to ensure nuclear safety has become of great concern to many people," said Zhang Yunchuan, vice-chairman of the NPC's Environment Protection and Resources Conservation Committee.
Nuclear safety legislation will help the public understand nuclear developments and alleviate their concerns by improving supervision, Zhang said.
Lawmakers said that a two-year research project conducted across the country showed that safety is a key concern, adding that nuclear activities and improved safety supervision rely on the transparency of information, Zhang said.
The draft states that nuclear safety management and supervision departments of the State Council and provincial governments where nuclear facilities operate should disclose necessary information, including reports of their nuclear activities and nuclear safety procedures.
The State Council is also required to report regularly to the NPC Standing Committee on whether nuclear activities or related operations are safe, it said.
Meanwhile, the draft requires nuclear facilities' operation departments to make public information on management rules, radiation monitoring data and annual nuclear safety reports.
Departments that refuse to disclose such information will be fined up to 500,000 yuan ($73,800), the draft states.
All information should be disclosed through governmental websites, it said.
Liu Hua, chief engineer of nuclear safety at the Ministry of Environmental Protection, supports such transparency. "The disclosure of such information will enhance nuclear operations and benefit the whole industry," he said.
The draft also stipulates that operation departments should solicit the opinions of people who might be affected by nuclear projects through questionnaires, seminars or meetings.
In addition, people are also given the right to report those that harm nuclear safety to the State Council's supervision authority, it said.
Zheng Jinran contributed to this story.