US defense chief vows 'overwhelming' response once DPRK launches nuclear weapon successfully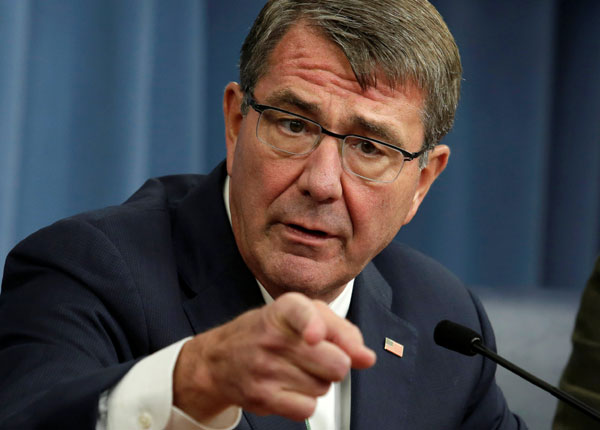 US Secretary of Defense Ashton Carter gestures during a news conference at the Pentagon in Washington, U.S. July 25, 2016. [Photo/Agencies]
WASHINGTON -- US Defense Secretary Ashton Carter said on Thursday that the United States would make an "overwhelming" military response if Pyongyang was to ever successfully launch a nuclear weapon.
The United States "strongly condemns" the missile test by the Democratic People's Republic of Korea (DPRK) last night, said the Pentagon chief, noting the attempt, "even in failing, violated several UN Security Council resolutions."
"Make no mistake: any attack on America or our allies will not only be defeated, but any use of nuclear weapons will be met with an overwhelming and effective response." he warned at a joint press conference with his South Korean counterpart Han Min-Koo at Pentagon.
The South Korean Defense Minister told reporters that Seoul and Washington will consider "permanently deploying US strategic assets on a rotational basis" in a bid to back up US commitment to defend South Korea from DPRK's nuclear and missile threats.
The United States and South Korea will enhance cooperation on both the maritime and cyber security, Carter added.
Earlier on Thursday, a spokesman for the DPRK National Aerospace Development said in a statement that the DPRK will continue to send more satellites into space under its national blueprint for space development, refuting claims by South Korea that the true intention behind it is not for peaceful purposes.
The statement came amid South Korea's strong denunciation of the DPRK over its test-launch of an intermediate-range ballistic missile last night, which Seoul's military presumed to have failed. It was the second failed launch in less than a week and the latest in a series of provocations by the DPRK following its fifth nuclear test last month.
On Wednesday, Carter reiterated the US commitment to provide "extended deterrence, guaranteed by the full spectrum of US defense capabilities" to South Korea and other allies in the region.