KMT chief pays tribute to Sun Yat-sen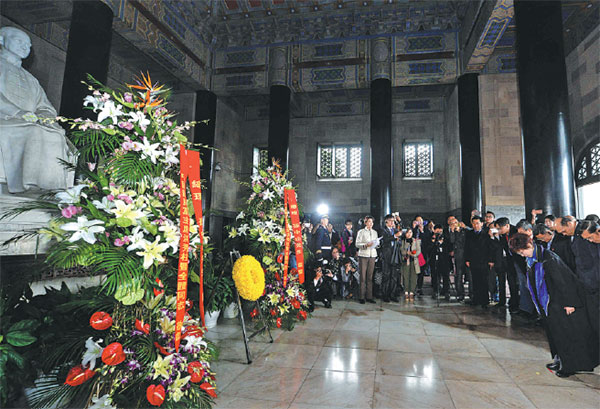 Kuomintang Chairwoman Hung Hsiu-chu bows before a statue of KMT founder Sun Yat-sen at the memorial hall of the Sun Yat-sen Mausoleum in Nanjing on Monday. Ji Chunpeng / Xinhua
Hung Hsiu-chu, chairwoman of Taiwan's Kuomintang party, paid tribute to KMT founder Sun Yat-sen at his mausoleum in Nanjing on Monday, and said her five-day trip to the mainland pursues the peaceful development of cross-Straits relations.
Hung, who flew to the capital of East China's Jiangsu province on Sunday, said during a meeting with Nanjing officials that despite a difficult cross-Straits situation, the connection between the two sides won't be cut off and exchanges will continue.
"We come in peace, hope and mutual trust between the two sides," she said. "It is not just for this generation, but also for the benefit for our next generation. I hope the seed of hope we spread today will blossom and yield fruit in the future."
She flew to Beijing later on Monday for a forum on the peaceful development of cross-Straits relations as well as meetings with high-level leaders of the Communist Party of China.
It is the first time that Hung has traveled to the mainland since becoming head of the KMT on March 30. It also marks the first visit by a KMT leader since the party lost the Taiwan leadership and a legislative majority to the Democratic Progressive Party in elections in January.
"I believe Hung's visit meant to remind people of Sun's spirit and to help the KMT after it lost the election," said Ni Yongjie, deputy director of the Shanghai Institute of Taiwan Studies.
Besides Hung, two KMT chairs, Lien Chan and Wu Po-hsiung, have visited the mausoleum, in 2005 and 2008, respectively.
Sun Yat-sen, who was born in 1866 in Zhongshan, Guangdong province, was the forerunner of China's anti-feudalism revolution.
Marking the 150th birthday of Sun, Hung's tribute also promotes exchanges and mutual trust between the two sides, said Ni.
Some Nanjing residents welcomed Hung at the mausoleum with banners saying: "Taiwan and the mainland belong to one family. Welcome, Chairwoman Hung Hsiu-chu."
Liu Xiangping, head of the Institute of Taiwan Studies at Nanjing University, said, "After Hung became KMT chairwoman, President Xi Jinping sent a congratulatory telegram to her, which shows the friendly interaction between the two parties and also the mutual political foundation the two parties have shared,
"The interaction will continue, and the two parties will both work hard for the well-being of people from both sides," he said.