15 dead, 20 missing in SW coal mine gas explosion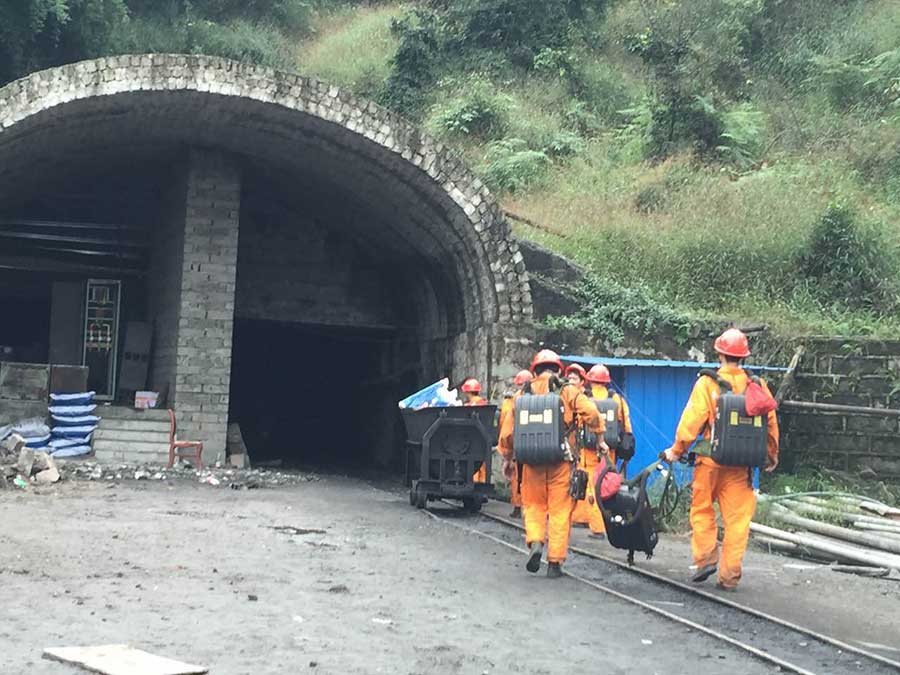 Rescuers work at the site of the explosion in Chongqing, Nov 1, 2016. [Photo by Tan Yingzi/chinadaily.com.cn]
CHONGQING - Rescuers are working around the clock to search for 20 miners who have remained trapped in a colliery in southwest China's Chongqing Municipality for nearly 24 hours following a gas explosion.
Altogether 33 miners were stranded in a pit of Jinshangou Coal Mine in Yongchuan District after the explosion went off at 11:33 a.m. Monday.
As of midnight, rescuers had retrieved 13 dead bodies, but the remaining 20 were still unaccounted for, said Chongqing's deputy mayor Mu Huaping at a press briefing held in the small hours of Tuesday.
The official corrected previous casualty reports provided by the local coal mine safety authorities on Monday, which said 15 miners were confirmed dead. "We are still working all-out to search for the 20 missing miners," he said, "and will exert our utmost as long as there's still a ray of hope."
More than 400 rescuers have been working overnight, taking turns to go down the shaft for the search and rescue operation. They needed to dig through the underground passageways, some of which had been blocked by ruins from collapsed tunnels, carefully avoiding secondary disasters.
At least 20 ambulances and dozens of medical workers are standing by for first-aid.
When the explosion went off, 60-year-old Tao Puzhang was working on his cropland about 500 meters from the mine. "I heard a bang and felt the ground was shaking under my feet."
Liu Fuxiu, a winch operator with the mine, was working 40 meters from the entrance to the pit. She was swept away by strong shockwaves following the explosion and was injured on the face and back. "My injuries are nothing," she said while answering questions from investigators. "I have a relative down the pit and I hope he will survive."
Altogether 35 workers were in the pit when the accident happened. Two of them managed to escape unwounded.
Following the explosion, Chongqing authorities have intensified a safety overhaul and demanded all collieries with less than 90,000 tonnes of annual output be temporarily closed.
The Jinshangou mine has a designed annual output of 60,000 tonnes, according to its license.