Woman at center of crisis says she 'deserves death'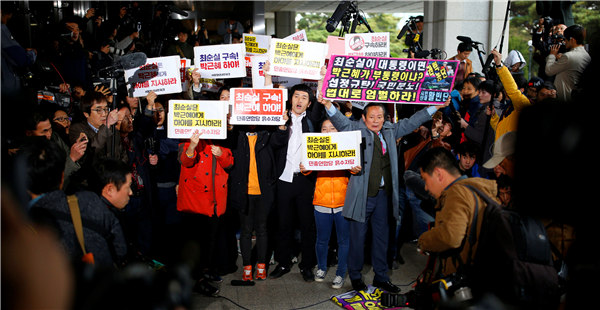 Protesters chant slogans as Choi Soonsil arrives at a prosecutor's office in Seoul on Monday. The banner (in red) reads "Arrest Choi Soonsil, Call for Park Geunhye to step down". KIM HONGJI / REUTERS
Investigators have raided homes of some officials in the presidential Blue House as part of probe
Telling reporters on Monday that she "deserves death", the woman at the center of a scandal roiling South Korea met prosecutors examining whether she used her close ties to President Park Geun-hye to pull government strings from the shadows and amass an illicit fortune.
"Please, forgive me," Choi Soon-sil, a cult leader's daughter with a decades-long connection to Park, said through tears inside the Seoul prosecutor's building, according to Yonhap news agency.
Using a common expression of deep repentance, she added, "I committed a sin that deserves death".
Choi, wearing a hat and a scarf, her hand pressed to her mouth, was nearly knocked off her feet several times as she tried to walk through a massive crowd of 300 journalists, as well as protesters and security, surrounding the building's entrance. YTN TV station said that Choi, 60, lost her shoe as the throng converged on her, and a protester reportedly tried to enter the building with a bucket full of animal feces.
Other protesters screamed "Arrest Choi Soon-sil" and "Park Geun-hye should resign".
The scandal exploded last week when, after weeks of speculation, Park acknowledged that Choi had edited some of her speeches and provided public relations help. Widespread media reports say that Choi, who has no official ties to the administration, may have had a major role in government affairs.
Choi has previously said she helped Park but didn't know if she was seeing confidential information.
Investigators are trying to determine the scope of access Choi had and whether she was given sensitive presidential documents. They have raided the homes of some officials in the presidential Blue House as part of the investigation.
"We hope that the various allegations can be thoroughly verified," presidential spokesman Jung Youn-Kuk told reporters.
Park has fired some of her closest aides to try to contain the fallout. Some lawmakers and the public have called for Park's resignation or impeachment, and thousands of people have protested in the streets.
It's not clear how much influence Choi had. But many South Koreans believe there is much more to the story than Park has acknowledged, and the frenzy surrounding the scandal threatens her presidency.
Longtime confidante Choi returned home on Sunday from seclusion in Germany. It was unclear whether there would be any details revealed from her questioning, or how long she would be in the prosecutor's office.
The questioning of Choi's former associates, including a purported former employee of a host bar, lasted two days.
Choi has been close to Park since Choi's father, the leader of a religious cult, gained Park's trust by reportedly convincing her that he could communicate with her assassinated mother. Choi's father denied this in a 1990 media interview.
Elected in 2012, Park has long been criticized for an aloof manner and for relying on only a few longtime confidantes. Most South Koreans, however, assumed those confidantes were in the government. That she may have been outsourcing decisions to someone outside of government, and someone connected with a murky, lurid back story, has incensed many.
Media reports said the younger Choi used her connections to Park to pressure businesses to give money to two nonprofit organizations Choi controlled; Choi then allegedly used some of the organizations' official funds for personal purposes. South Korean media speculated that the two foundations collected $70 million in donations from business groups in just a few months.
The president of Ewha Womans University has resigned amid protests over allegations that Choi used her connections to Park to get her daughter into the elite school and then secure special academic treatment.