Italian authorities vow to rebuild earthquake-hit areas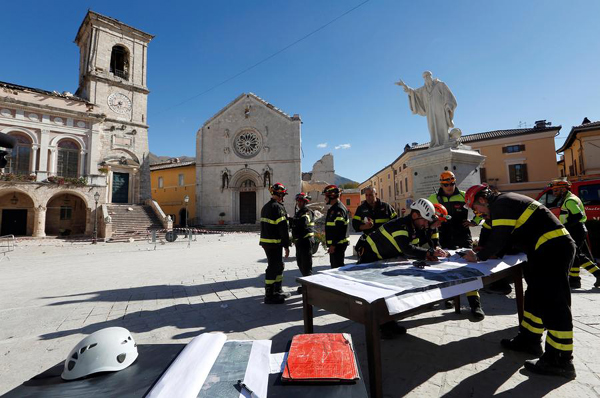 Firefighters work in front of St. Benedict's Cathedral in the ancient city of Norcia following an earthquake in central Italy, October 31, 2016. [Photo/Agencies]
ROME - The Italian authorities have expressed determination to rebuild the central Italian towns hit by strong earthquakes from August to October.
Italian President Sergio Mattarella said on Wednesday that the state will rebuild the earthquake-hit towns.
The reconstruction "will take time, but everything will be as before", the president told displaced citizens while visiting Camerino and Norcia, two towns badly damaged by the earthquakes that rocked central Italy last week.
On Sunday, a strong earthquake struck the center of Italy, leaving thousands of people homeless and jobless. The epicenter was near Norcia in Umbria region.
"Everything will be rebuilt" is also the message given by Italian Prime Minister Matteo Renzi on many occasions during these days, following the strong earthquake (6.5 magnitude) on Sunday.
"Our fellow citizens must know that the state is with them," he told journalists during a press conference. "This earthquake is an extraordinary event, and we need extraordinary measures. Places affected by the earthquake have a soul, and they can't loose it," he said.