Home / World / Asia-Pacific
Enraged S Koreans rally nationwide to demand president's resignation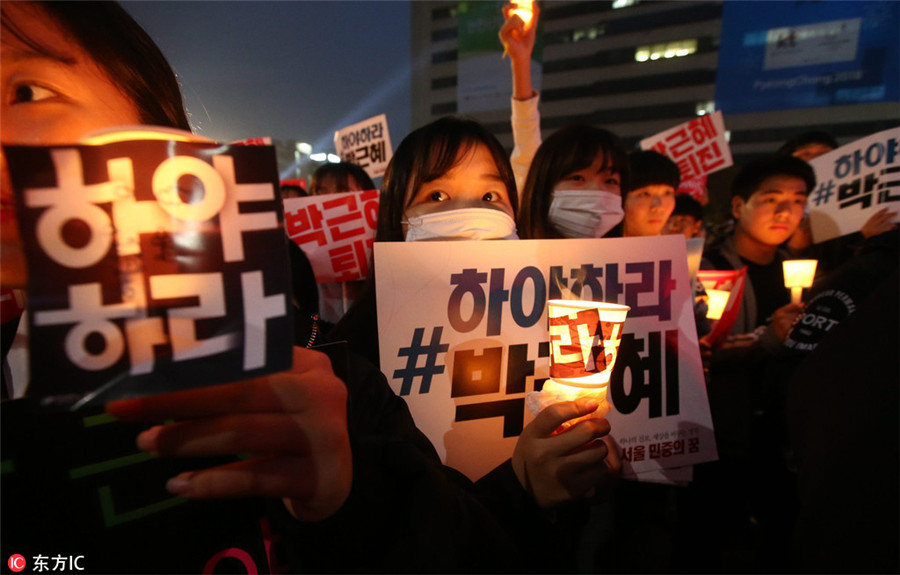 South Koreans hold placards and candles as they march to protest against South Korean President Park Geun-Hye in Seoul, South Korea, Nov 5, 2016. [Photo/IC]
SEOUL - Tens of thousands of enraged South Koreans rallied in Seoul and other places Saturday night to demand President Park Geun-hye's resignation over a scandal involving her longtime confidante and ex-advisors.
The nationwide rally followed the president's second apology for the scandal surrounding Choi Soon-sil, suspected of peddling undue influence for personal gains and meddling in state affairs behind the scenes.
In the capital Seoul, police estimated that about 45,000 people gathered in the Gwanghwamun Square to attend the rally, almost quadrupling a 12,000-strong protest held a week earlier.
Around 18,000 police officers were deployed to the square to prevent a possible march toward the presidential Blue House that is Park's office and residence just 1-2 kilometers away from the square.
Organizers said as many as 200,000 turned out in Seoul when including those coming back after early participation.
An additional 100,000 turned out in other places nationwide, with smaller rallies in many major cities.
Candlelight vigils took place in southwest South Korea, traditionally seen as a major support base for the opposition bloc, and in the metropolitan area close to the capital city, according to local media reports.
Protests happened even in the country's southeastern regions, a political home turf for President Park and the ruling Saenuri Party. Participants held posters reading "Saenuri is an accomplice."
Another large-scale rally is scheduled for next Saturday, with some expecting the anti-government protest to reach another pinnacle over long-stacked satisfactions with government policies.