Police swoop on Paris migrant camp after Calais Jungle clearout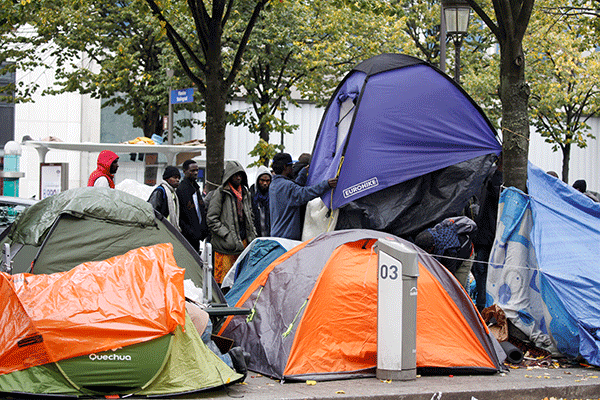 Migrants stand near their tents at a makeshift migrant camp on a street near the metro stations of Jaures and Stalingrad in Paris, France, October 28, 2016.[Photo/Agencies]
French riot police swooped on a makeshift migrant camp in northeast Paris on Monday, sparking a brief standoff at a site where numbers have soared since the closure of the Jungle shanty town in the northern port city of Calais.
The operation, largely consisting of identity checks on some of an estimated 2,500 migrants sleeping rough around a canal and railway bridge near Paris's Stalingrad metro station, came as pressure mounts on the government to shut the camp.
Tension has risen with the speculation that police will move in to evacuate and close the camp definitively in the coming days, as the Paris authorities are demanding.
A journalist at the scene said a digger moved in to clear a small part of the camp, a sprawl of tents, mattresses, blankets and the meager belongings of migrants who come mostly from war-torn countries such as Afghanistan.
Migrants shouted at police as the digger swept debris and rubbish away. The camp was otherwise left largely intact. One policeman sprayed a migrant with teargas.
After a couple of hours, police allowed migrants to move back after a tidy-up by municipal cleaning workers.