Central bank to remove 1 jiao coin series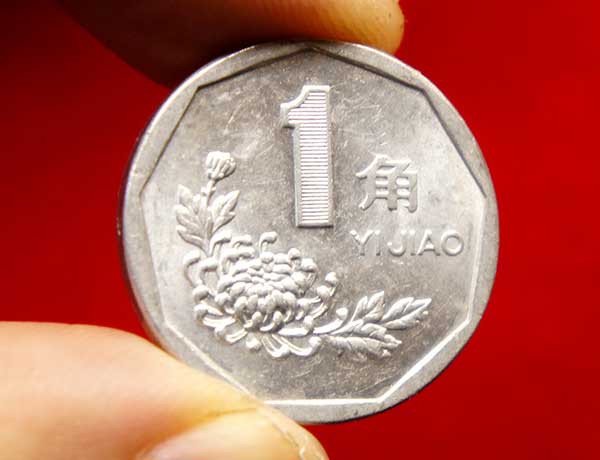 The 1 jiao coin features a chrysanthemum on one side. Ren Weihong / For China Daily
One series of the 1 jiao coin (0.15 cents) was to be removed from circulation starting on Tuesday, making the coin more valuable for collectors, according to a report by Modern Express.
People's Bank of China, the central bank, has called on banks nationwide to hand over all that series of 1 jiao coins, adding that no new such coins are to be distributed, the newspaper reported.
The coin, minted mainly from 1991 to 1999, is among the fourth series of renminbi coins. It features a chrysanthemum on one side and the National Emblem of the People's Republic of China, the full title of the state in Chinese and pinyin on the other side.
The fourth series of notes were introduced in denominations of 0.1, 0.2, 0.5, 1, 2, 5, 10, 50 and 100 yuan. Coins were introduced in denominations of 0.1, 0.5 and 1 yuan.
The report cited a collector as saying that the coin is favored by collectors because of its design, which features nonagon inside edges on both sides of the coin.
"A 1994 edition of the coin is worth about 30 yuan, while a set of nine coins from 1991 to 1999 is worth about 200 yuan," the collector said.
The coin was also minted in 2000, but that edition was never distributed to the public. It was only included in a collection album and is said to worth about 1,000 yuan.
However, a single coin wouldn't have much value in terms of collection. In addition, few buyers would purchase oxidized coins, according to the collector.
"Therefore, there is little point in searching for an old coin in attempts to make a profit from selling it," the collector added.