Latest military tech on display at air show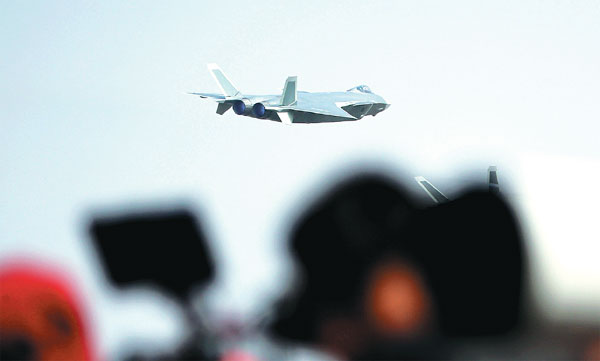 Two J-20 stealth fighter jets perform aerobatic maneuvers during the 11th China International Aviation and Aerospace Exhibition held in Zhuhai, Guangdong province. Feng Yongbin / China Daily
Long-rumored J-20 stealth fighter and J-10B combat jet get public debut at the China International Aviation and Aerospace Exhibition
Visitors to the 11th China International Aviation and Aerospace Exhibition, which started on Tuesday in Zhuhai, have been treated to displays from some of the People's Liberation Army Air Force's best aircraft.
On Tuesday morning, two J-20 twin-engine stealth fighter jets performed aerobatic maneuvers above the heads of tens of thousands of onlookers at the event, which is also known as the Zhuhai Air Show - the first time the previously classified warplane had appeared in front of the public.
The J-20 is believed to be the third stealth fighter jet in the world to enter service following the United States' F-22 Raptor and F-35 Lightning II.
Its debut flight was in January 2011 and at least 10 prototypes are thought to have been produced since then. However, officials from the government and the PLA had not disclosed any information about the aircraft until now.
Over the past six years, it has not been uncommon for plane spotters to camp outside Chinese military air bases for hours, hoping to get a picture of the elusive aircraft.
Which is why enthusiasts are calling the J-20 the biggest star of this year's show.