Denmark turning to Chinese to improve communications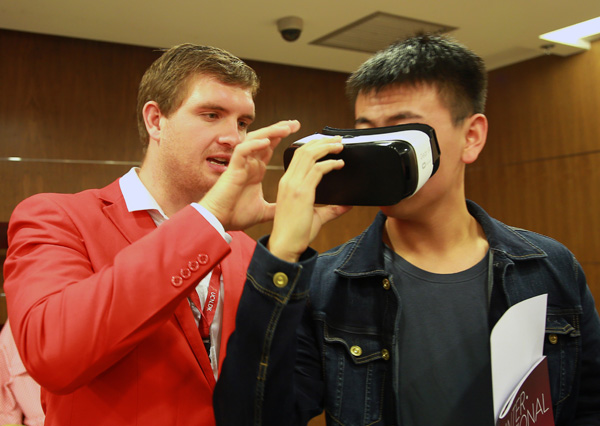 A student uses a virtual reality machine to see a Danish university campus on "Denmark Day" in Beijing.[Photo by ZOU HONG/CHINA DAILY]
Higher education institutions and companies in Denmark are seeking Chinese students and graduates to learn and work in the European country to improve its communications with China.
On Oct 24, six Danish companies and 13 higher education institutions and universities participated in "Denmark Day" events held at Peking University in Beijing, offering education and career opportunities to Chinese students.
The event - the sixth annual Denmark Day - was celebrated in Shanghai on Wednesday and in Hong Kong on Friday.
"Denmark Day has become an important initiative for Denmark, in tandem with ongoing massive and fast development of research, higher education and talent in China," said A. Carsten Damsgaard, the country's ambassador to China, during the Beijing event, adding that Denmark's competitiveness depends on its companies being able to recruit qualified candidates with international experience.
"Thus, Danish higher education wishes to cooperate with the best in the world, especially when China is a very relevant action point," he said.
Mei Zhu, who works for an industrial association at the Ministry of Industry and Information Technology, studied for a master's degree in Copenhagen. She then spent two years working in the Danish capital's international business cooperation sector before returning to China.
"Denmark is highly internationalized. I participated in many international events and made friends from all over the world during my stay," she said. "It helped me to gain a global perspective on things."
Corporate participants in this year's event included well-known Danish companies, such as Danfoss, Maersk, Saxo Bank, Novo Nordisk and Novozymes, along with Aarhus University, the Aarhus School of Architecture and the Copenhagen Business School.