The 2016 Guangdong 21st Century Maritime Silk Road International Expo held last week, provided a platform to promote the expanding economic and trade cooperation between Chinese enterprises and those from 21st Century Maritime Silk Road countries.
The international expo, which wrapped up in Dongguan on Sunday, attracted 1,526 enterprises, of which 1,098 were overseas and the remainder were domestic.
This year's expo saw 700 projects signed, totaling 206.8 billion yuan ($30.5 billion), representing growth of 2.5 percent from the previous year.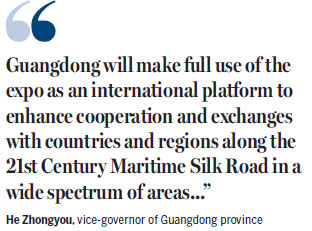 Among these agreements, 187 were related to investment projects worth a total of 54.1 billion yuan. Some 63 'Going Out' projects attracted Chinese enterprises, with agreements altogether worth 33.5 billion yuan.
Enterprises also made 450 trade deals amounting to 119.2 billion yuan during the four-day event.
According to Sunward Intelligent Equipment Co Ltd, a Changsha, Hunan-based company that produces engineering equipment, the 10 pieces of equipment it exhibited at the expo were all sold, fetching 30 million yuan.
"A number of customers approached us at the expo. The success has exceeded our expectation," said Long Jucai, the company's marketing manager.
"We feel that Guangdong is the most important market in which we can do foreign trade, as the expo assists us in going international and in accessing more overseas clients."
Yang Lei, strategy and brand manager of Dongguan Yongqiang Vehicles Manufacturing Co Ltd, said the expo allows his company to march into international markets much more easily and quickly.
But Yang also pointed out differences between the economic, cultural and tax situations in China and other countries as challenges that need to be tackled, because many Chinese enterprises are unfamiliar with the environment abroad.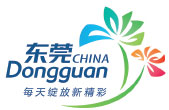 Purchasing power
Apart from domestic and international enterprises, the expo has also become a platform for buyers who want to purchase international products.
According to statistics from the organizing committee, the expo attracted more than 25,000 buyers from around the world, including those from over 40 overseas chambers of commerce, as well as associations from more than 30 countries and regions.
A number of large business groups such as Wal-Mart Stores Inc, Carrefour SA and The Vanguard Group also sent purchasing teams to the expo.
"Guangdong will make full use of the expo as an international platform to enhance cooperation and exchanges with countries and regions along the 21st Century Maritime Silk Road in a wide spectrum of areas, including infrastructure, investment, international trade, cultural exchange and tourism, in an earnest and efficient manner," said He Zhongyou, vice-governor of Guangdong province.
sally@chinadaily.com.cn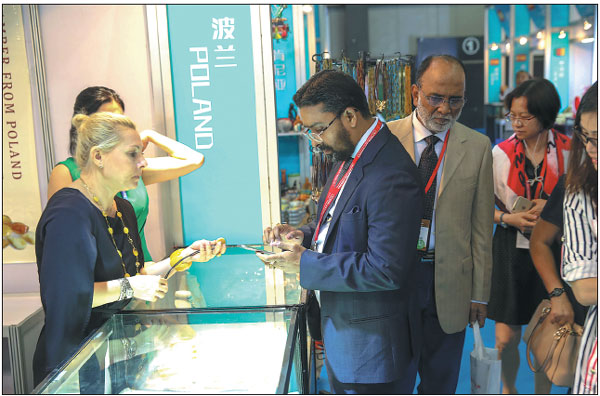 A visitor checks a piece of amber from Poland at this year's Guangdong 21st Century Maritime Silk Road International Expo.Zheng Zhibo / For China Daily