In late autumn, around China's National Day holiday, Changchun, the capital city of Northeast China's Jilin province, sees farmers driving their tractors with packages of potatoes, Chinese cabbages, and onions to designated selling points to start a more than three-week-long "winter vegetable selling season".
For many years this flow of produce has held a symbolic meaning for locals that long, freezing winter days are coming, so better get prepared for them.
An old friend of mine, a Changchun native, once told me that it was a fun activity to buy "winter vegetables " in the 1970s, a time when food and materials were very scarce. People usually got up early in the morning, queuing up on the street, praying for getting better and fresher veggies that year, while chatting with others about trivial things.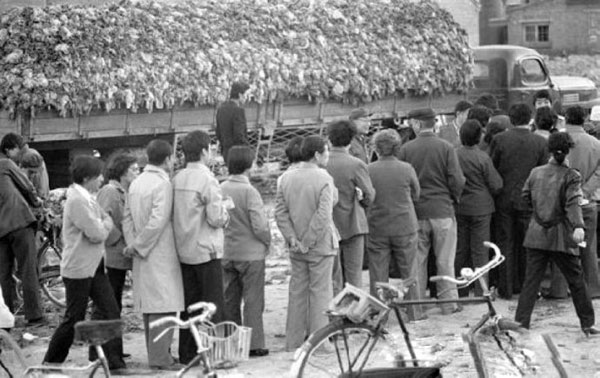 A large queue forms as residents wait to buy Chinese cabbages, which are favored by consumers for its cheap price and the long time in which it can be preserved in comparison with other vegetables. This file photo was taken on Nov 12, 1988, showing people at a temporary vegetable stand. [Photo/Xinhua]
"Sometimes, people need to wrap themselves up in long coats over night, holding a wooden stool, in order to get vegetables as soon as possible the next day," he recalled. "You know, when parents were gone, we, a couple of teenagers, would roll around on the floor and fight. I bet no one in the world would feel lonely any more if they happened to hear our noises and feel the atmosphere here."
Usually, Chinese cabbages, potatoes, and spring onions, the three "must-have" ingredients, feed people from October to early April the following year, as winter is particularly long in Northeast China.
And in fact, people from other parts of Northern China share the same habit of preserving winter vegetables. In Beijing, during the period of planned economy, many people drive bicycles to carry hundreds of kilograms of Chinese cabbages during the winter days.
Chinese cabbages are their favorite.
In comparison, Northeast China has much longer winter days and is much colder than elsewhere in Northern China.
So once people get winter vegetables, how to save them? An effective method can keep them fresh for a long time, especially given that temperature usually drops below minus 20 C. And, each household's method can be creative, too.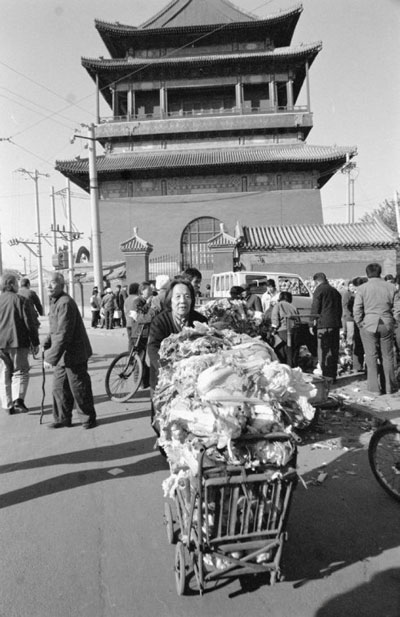 An old lady wheels a cart full of Chinese cabbage in this file photo taken in Beijing, on Nov 1, 1988, the first day of "winter vegetable selling season". [Photo by Tang Shizeng/Xinhua]
"We bury turnips in dirt, put Chinese cabbages and potatoes against one side of the heat brick bed, pickle cabbages, and hang garlic braids under the roof," said my old friend.
Winter vegetable preservation seems to be a part of people's memory for a period of time when goods and other materials are in short supply and people tried their best to make a better life, to feed themselves, and find ways to entertain themselves.
"Every time I lifted the stew stove lid, a savory aroma of salty fish and potatoes filled the air," my old friend used to tell me.
For him and many older generations in Changchun or Northeast China's Jilin province, winter vegetables mean something, a mixture of bitter, sweet, sour, and spice.
However, these feelings about winter vegetables seem to be somewhat removed from many people in Northern China. And the tradition seems to have faded away in Changchun, too.
Due to an abundant supply of fresh vegetables, and convenient transportation, people's demand for the three "must-have" winter vegetables is in decline.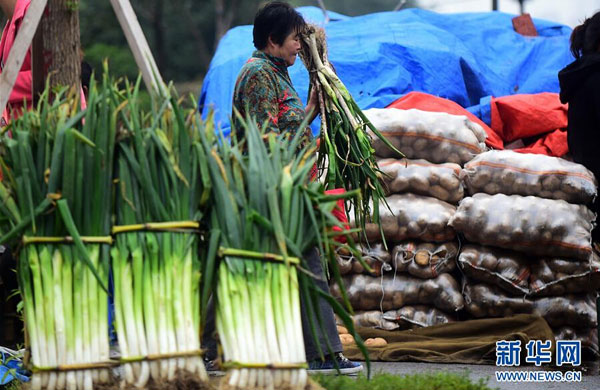 A woman carries a bunch of spring onions at the Minfeng agricultural products market in Changchun on Oct 3, 2016. As the temperature begins to quickly drop in Northeast China, people begin to store fresh vegetables such as carrots, potatoes, Chinese cabbages, and spring onions for winter. However, the tradition of purchasing winter vegetables seems to be fading away in parts of Northern China. [Photo by Lin Hong/Xinhua]
Many elderly people regard winter vegetable preservation as an "opening ceremony" of the long winter season, and a living memory of the decades when China's goods were scarce, as Xinhua News Agency reported.
Young people rarely consider those good old days of the three "must-have" vegetables. Another friend of mine, who is in his mid-thirties, and also a native of Changchun, told me that his family hasn't purchased winter vegetables for many years, and thought people may need cabbage for pickling only.
I think the tradition may dissipate someday because of market supply-and-demand; however, those farmers who drive tractors to Changchun now must think of what to plant and how to sell in the future. Perhaps, they could try to apply some marketing strategies, labeling them organic vegetables, or sell them online after wrapping them in nice, clean bags.
Yes, they will find their own way, as do young people.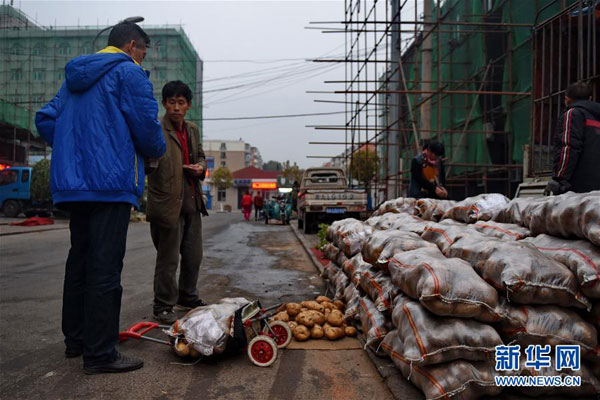 Zhang Yanshun(R), a winter vegetable vendor in Changchun, gives his customer change. This was his first customer in two hours, at his point of sale on Donglingnan Street, Oct 22. [Photo/Xinhua]
But, what will really disappear will be the buried turnips, the aroma of salty fish, and the sense of happiness people usually felt in those days of scarcity.