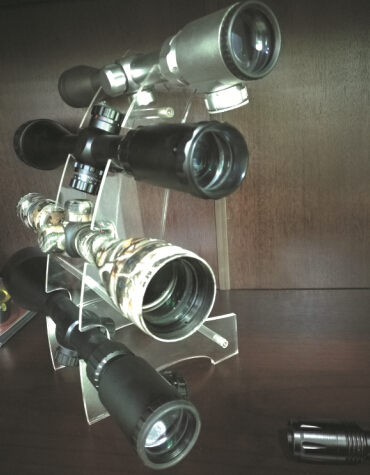 Optical sights made in Nantong are mostly for export. FENG HONGXIN / FOR CHINA DAILY
More than 80 percent of optical sights, a key component in hunting firearms, are produced in China. However, few people know that more than 60 percent of China's optical sights are produced in Nantong, Jiangsu province.
Due to strict gun control in China, the gun sight manufacturing industry in Nantong is relatively unknown in the country.
Despite that, the industry has become a pillar economic source in some towns in the city.
The industry, which started from a small workshop in an area of the city's Tongzhou district about three decades ago, has grown into a complete industry chain that employs more than 10,000 people.
Yin Zhuhua, a Nantong resident, is credited as the person who first brought the industry to the city in the 1980s.
In 1990, Yin founded Sam Optics and rolled out the city's first production line for optical sights. Sam Optics has grown into the largest company in terms of production scale in the industry.
More such companies have mushroomed since Sam's success.
Zhang Yinan, head of the Nantong Chamber of Commerce of Optical Sights, was also one of the first batch of entrepreneurs.
Zhang founded Nantong Global Optics in the 1990s, which currently has more than 500 employees. Most of its products are exported to European countries and the United States.
Sam and Global are pioneers in the industry. Though more than 100 optical sight companies in Nantong are involved in the industry, most have connections with Sam and Global, Zhang said.
Their founders usually once worked for one of the two pioneering companies, Zhang said.
Zhang estimated that Nantong's gun sight industry uses 5,000 metric tons of aluminum and 1,500 tons of copper each year.
More than 10,000 people, mostly local farmers, work in the industry.
The well-established industrial chain has also attracted many world-class international companies in the optical sight industry to build branches in Nantong.
Japanese optical giant Kenko Tokina established a plant in the city several years ago.
Zhang estimated that the annual sales of Nantong's optical sight industry total about 1.5 billion yuan ($230 million) to 2 billion yuan.
"A large group of businessmen and family workshops have become rich," he said.
The revenue of the optical sight sector may not be able to be compared with that of other backbone industries such as construction and textiles in Nantong, Zhang said.
"However, the optical sight industry is a niche market that Nantong dominates. That is something to be proud of."
Zhang recalled the hardships he went through during the early days of his company.
"There wasn't even special equipment to bore a hole in the optics," he said.
He had to spend a lot of time traveling to Zhejiang and Shandong provinces to find suitable equipment.
"The logistics costs were very high at that time as most of the work had to be outsourced," he said.
These days, every small component of an optical sight can be produced in Nantong.
There are also optical sight companies in Hubei and Sichuan provinces, Zhang said. "But most of their parts are purchased from Nantong. Some international companies also place orders for optical parts in Nantong."
Most optical sights produced in Nantong are exported overseas.
To secure more orders, Zhang has promoted his company's products at many overseas fairs and exhibitions since the 1990s.
"I have made a lot of foreign friends in this field over the years," he said.
The product is a precision optical instrument, he said. "Thus, it requires constant technological upgrades to meet the development of the times."
Nantong's optical sights are mainly sold at an above-average level, he said.
The high-end market is still dominated by German and Japanese manufacturers. "Their craftsmanship and rigorous work style are very impressive."
Hunting is considered as a leisure sport in the West, Zhang said.
"Our targeted consumers are not very sensitive to price," he said. "Thus, we should make breakthroughs in technology to meet their demands."
Contact the writers through dingcongrong@chinadaily.com.cn