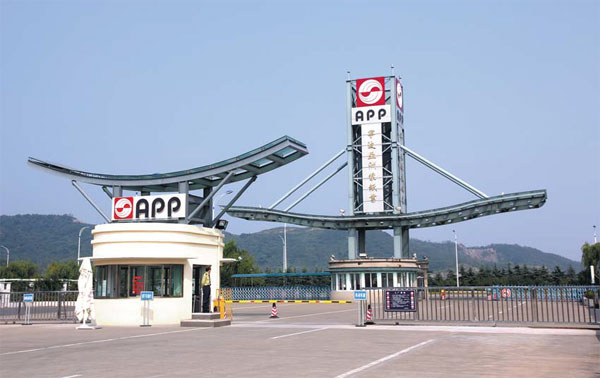 Ningbo Asia Pulp and Paper Co, which has invested 25 million yuan to build an anaerobic treatment system to increase the efficiency of sewage treatment, is one example of APP-China's efforts in environmental protection. Provided to China Daily
Decades of efforts and hard work by APP-China to maintain environmentally friendly management and production have paid off.
The leading papermaker was awarded an honorary title of a national role model for emissions reduction at the China Summit on Caring for Climate in Beijing on July 22.
The company's environmental protection practices will be recorded in an achievements collection that will be reported by the United Nations Global Compact to the United Nations Climate Change Conference in Paris in December.
The company considered the move a landmark in coping with global climate change, after Teguh Ganda Wijaya, chairman of Asia Pulp and Paper Group - the parent of APP-China - signed an anti-deforestation pledge at last year's United Nations Climate Summit in New York to protect the world's forests.
"It was a great honor and the best recognition of our efforts made during the implementation of a sustainable development strategy over the past years," said Zhai Jingli, deputy CEO of APP-China.
"Many people today believe the paper industry runs counter to environmental protection, and this award helped us prove that the industry can also realize green development," Zhai added.
Papermaking has faced challenges of high resource and energy consumption and high pollution, but APP-China realized from the very beginning that only the harmonious coexistence of environment and resources could lead to sustainable development.
APP-China, therefore, invested a large sum of money and put great effort into introducing clean production technologies and promoting product innovation. As of this year, the company has invested more than 8.4 billion yuan ($1.35 billion; 1.24 euros) in these fields, according to Zhai.
She said water resource management is a key part in clean production, so the company's subsidiaries and plants focus on improving related facilities and technologies.
Ningbo Asia Pulp and Paper Co, one of China's largest industrial paper suppliers, invested 25 million yuan to build an anaerobic treatment system to increase the efficiency of sewage treatment.
The biogas and sludge produced during the anaerobic biological treatment process can also be recycled and used for the production.
In addition, the company collects wastepaper every year as a major raw material for production. In 2013, the company and another APP-China subsidiary, Ningbo Zhonghua Paper Co, recycled more than 510,000 metric tons of wastepaper.
Statistics show that using one ton of wastepaper as raw material is equivalent to protecting 17 trees, each 12 meters in height and at least 1.8 meters in girth, and saving 1.2 tons of coal and 100 cubic meters of water.
"We believe that creating environmental and social benefits is the foundation of long-term development and also the direction of APP-China's continuous efforts," Zhai said.
As one of the global partners of the China Pavilion at the ongoing Milan Expo 2015, APP-China will host a Corporate Day on Sept 25 at the pavilion to showcase achievements by modern papermaking companies in seeking harmonious development with nature and ecosystems.
haonan@chinadaily.com.cn