A growing number of construction companies in China are now leasing machinery equipment for their building projects, seeing it as an important way to gain a competitive edge.
"Leasing can reduce production costs and save funds," said a manager from a construction company.
As the construction machinery market competition becomes more intense, construction enterprises are paying more attention to the flexible use of machinery equipment.
"Equipment will become obsolete if it is not used very often," said the manager.
His comments were back up by experts, many of whom predict that leasing construction machinery is a future trend.
In North America, Europe and Japan, leasing construction machinery has created 65 percent of the machinery equipment sales in their local markets.
"From a global perspective, leasing firms have stimulated the use of idle construction machinery, becoming an important and indispensable platform in the modern marketing system," said a source from the Machinery Management and Leasing Branch of the China Construction Association.
The source said there is a huge leasing market for construction machinery, creating annual sales of about $40 billion, which is equal to 25 percent of the global output value of construction machinery products.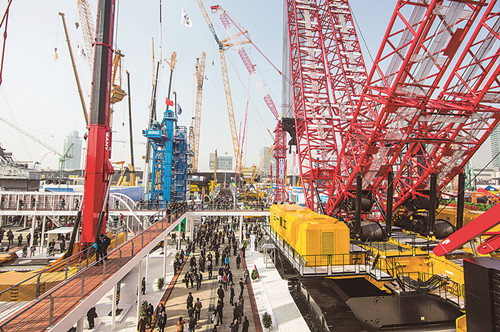 Machinery equipment is showcased at bauma China 2012.PHOTO PROVIDED TO CHINA DAILY
China lags far behind the global level with its annual leasing sales reaching only 15 billion yuan to 20 billion yuan ($2.44 billion to $3.25 billion).
The country has about 100,000 construction machinery leasing companies, but their annual turnover averages only 3 million yuan ($487,805). Of them, only 10 percent each have assets of more than 50 million yuan ($8.13 million).
"Although the Chinese market in this field is not mature at the moment, it doesn't mean the market is not big enough," the source said. "On the contrary, it is witnessing an increasing demand for construction machinery."
Take the real estate market as an example, the source said, which saw an annual average increase of 10 percent between 1998 and 2011. In 2011, China built 1.9 billion square meters of housing, up 16.15 percent over 2010.