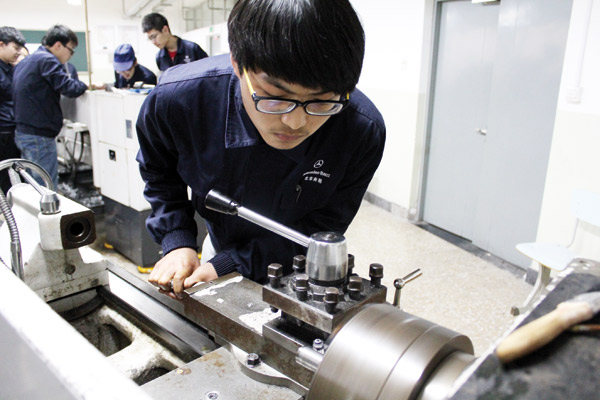 A student is learning basic lathe and turning work at Beijing Polytechnicthe, the biggest vocational school in the Chinese capital. Wang Zhuangfei / For China Daily 
Story of a student who dropped out of Peking University to study in a vocational school three years ago drew public attention again on Monday as he said recently that he was fortunate to make the choice and had no regret.
Zhou Hao, now a student of Beijing Industrial Technical College, entered Peking University in 2008 to study life sciences as one of the top local scorers of college entrance exams in Qinghai province, China Youth Daily reported on Monday.
Zhou told the newspaper that his initial plan at the time was to apply to Beijing Institute of Aeronautics although his personal interest finally gave way to his father's ardent expectation.
However, he found himself unable to adapt to theory study of life sciences and in the third year in Peking University, he dropped out and began to study numerical control, something he really liked, at Beijing Industrial Technical College.
Now Zhou is one of the best students at the college. Even though there are still months to go before graduation, many companies have already made him job offers.
"I was very fortunate to make the choice six years ago. What I'm learning now is also very helpful to people's life," Zhou told China Youth Daily. "I believe everyone can become powerful if they find what best fits their interests and needs.
The story was a hot topic on China's social media Weibo on Monday with many saying they supported Zhou's choice.
Others called for more social attention to China's vocational education.
"Vocational schools are as essential as universities in terms of their role in the society and there is no shame in studies and careers," one user said.
China unveiled a long-term plan to beef up the country's vocational education in June, saying it plays an important role in talent's training system.
Enrollment in Chinese universities has increased in recent years, offering students more opportunities to go to college. There will be more than seven million graduates this year and the initial employment rate is about 70 percent, according to China's Ministry of Education.
In contrast, many vocational schools are faced with "student crisis," although the employment rate of vocational students has been over 90 percent in recent years.