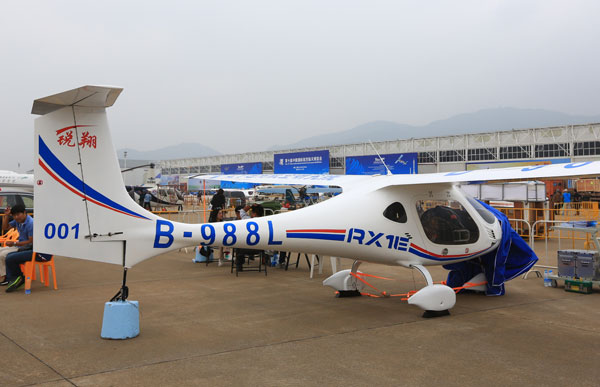 An electric RX1E aircraft is displayed at the 10th China International Aviation and Aerospace Exhibition in Zhuhai, Guangdong province, on Monday. Li Jianshu / for China Daily
Huge markets are expected for the versatile, eco-friendly 2-seat RX1E
China will soon put its first domestically developed electric aircraft into mass production, and designers expect a huge market at home and abroad.
"The RX1E is scheduled to receive its airworthiness certificate from the Civil Aviation Administration of China before the end of this year, with production expected to start next year," Yang Fengtian, an academic at the Chinese Academy of Engineering told China Daily on Thursday.
Yang was speaking at the 10th China International Aviation and Aerospace Exhibition, commonly known as Airshow China, in Zhuhai, Guangdong province.
"This will be the first electric aircraft to be certified by our civil aviation authority. The success of the plane means China has become a technology leader in this filed," he added.
Yang, who is also president of Shenyang Aerospace University in Liaoning province, headed the development of the two-seater, light-duty aircraft. Two prototypes of the plane are at the air show, one of which takes part in a performance each day during the event.
An electric aircraft runs on electric motors, with electricity coming from fuel cells, solar cells, ultracapacitors, power beaming or batteries.
Most of today's electric aircraft are experimental demonstration models. The first manned, electrically powered flight was made in 1973.
"We plan to reach an annual production of 100 such aircraft within three years, and the construction of a manufacturing plant that can make 100 RX1Es each year has begun in Shenyang," Yang said, adding that the plane, together with a set of batteries, will sell for nearly 1 million yuan ($163,000).
The convenience of use, easy maintenance, low operating costs, high safety levels and eco-friendliness will bring the RX1E many buyers to serve a wide range of purposes, such as police patrols, flight training, entertainment and mapping surveys, he added.
Yang said he expects that the Chinese market will need at least 1,000 RX1Es to meet the demand from general aviation businesses.
With a maximum takeoff weight of 480 kg and a cruise speed of up to 160 kilometers per hour, the RX1E can fly 90 minutes based on a full charging of its batteries.
It is able to carry loads for 230 km and fly at an altitude of nearly 3,000 meters.
Each hour of flight will cost only 20 yuan, including 5 yuan for battery charging, according to Song Mingkai, a RX1E designer.
Yang said, "In addition to the domestic market, it also has promising prospects in the European and United States markets, as many foreign enterprises have contacted us to express interest in it."
Roland Bosch, an aircraft exhibition organizer in Germany, said he came to Zhuhai to invite Yang and the RX1E to Germany.
He wants them to take part in a general aviation show because the cutting-edge plane has great potential in the international market.
"The RX1E's design and engine are very good. I believe it will be a big success in the global market because it is one of the best electric aircraft to my knowledge," Bosch said.