The overall performance of China's construction machinery industry remained sluggish in the first nine months of 2014 amid the economic slowdown in China.
Sany reported 1.59 billion yuan ($259 million) net profit for the first nine months of 2014, down 46.52 percent year-on-year.
The Zoomlion Heavy Industry Science and Technology Co, another key market player in the construction machinery sector, recorded revenue of 19.77 billion yuan ($3.21 billion) from January to September in 2014, a decrease of 31.06 percent from the previous year. Its net profits dropped by 73.64 percent year-on-year to 1 billion yuan.
Zoomlion's total income in the third quarter of 2014 reached 5.7 billion yuan ($927 million), down 33.84 percent from 2013.
The company said in its interim report of 2014 that the slowing down in China's fixed assets investment has led to a weak demand for construction machineries such as concrete machines and crane equipment in 2014. The overall business decline was partially offsetted by the increasing environmental and sanitation businesses.
The Liugong Machinery Co, another rival in China's machinery industry, reported a 15.14 percent year-on-year revenue drop in the first nine months of 2014 with total income arriving at 7.87 billion yuan ($1.28 billion).
The Xiagong Heavy Duty Machienry Co (XGMC) generated a total revenue of 3.5 billion yuan ($569 million) in the first nine months of 2014, a decrease of 35 percent from 2013. The company also reported a net loss of 100 million yuan ($16.3 million) from January to September.
XGMC also announced on October 29 it would terminate two investment projects that raised funds through public offering in 2012. The remaining funds will become liquidity for the company permanently.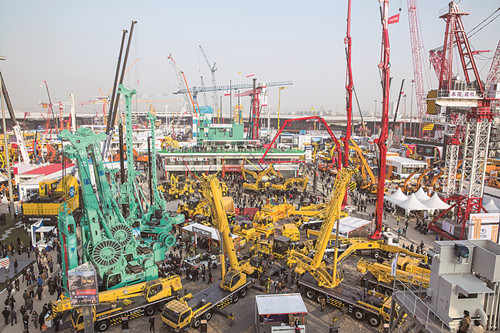 Exhibits from overseas and domestic exhibitors are on display at bauma China 2012. PHOTO PROVIDED TO CHINA DAILY
Over-capacity in the lower-end market
It was pointed out by experts that although China has huge construction machinery production capacity, very few companies have self-owned intellectual property rights and most core spare parts rely on foreign markets.
The figures from the China Construction Machinery Association (CCMA) showed that China's exports of construction machinery reached $6.14 billion in the first half of 2014, up 1.76 percent year-on-year. However, spare parts exports dropped by 61.36 percent to $1.14 billon. The two situations have finally led the overall exports of construction machinery to drop by 19.04 percent in the first half of 2014.