Small construction machinery companies are paying more attention to innovation in a bid to maintain sustainable development amid the economic slowdown in China.
Figures from the China Construction Machinery Association showed that sales of the construction machinery industry grew by 0.88 percent in the first seven months of 2014, remaining as unfavorable as it was in previous years.
Imports of construction machinery equipment totaled $2.7 billion between January and July, down 4.39 percent year-on-year, because of weak domestic demand.
Exports declined by 0.02 percent to $11.4 billion in the first seven months of 2014, which suggested a difficult situation in the export sector.
Most small construction machinery businesses have suffered. Industry giants including Sany Heavy Industry and the Zoomlion Heavy Industry Science and Technology Co, say 2014 has been a really difficult year.
"We are under big pressure because sales have declined significantly this year," said Li Yize, general manager of the Anhui Huanqiu Drivetec Co, without revealing further information. The company is a slewing drive manufacturer in Anhui province with annual output valued at 50 million yuan ($8.13 million).
Facing increased challenges, some small companies were forced to quit the business and some are taking innovative measures to maintain growth.
"We have collaborated with several universities to enhance our innovation abilities. We are recruiting more talents to support the development of our research and development center," said Li.
Li said Huanqiu has invested millions of yuan in product innovation in the past few years. The company is expected to achieve a slight revenue growth in 2014 amid the sluggish business environment.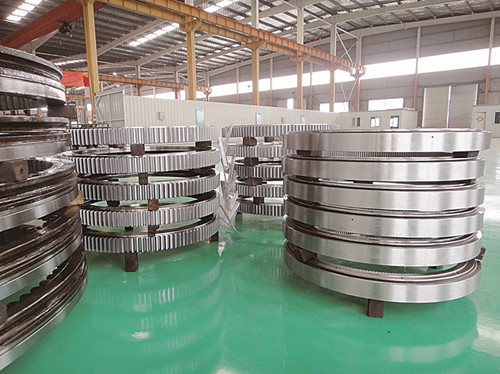 Products from the Anhui Huanqiu Drivetec Co will be on display at bauma China 2014. PHOTO PROVIDED TO CHINA DAILY
"Product innovation is the only way for companies to maintain growth in the long run. It will help us to enter a new business area," said Li.
For companies, participating in exhibitions is also a good way to seek more potential clients and expand their sales network, he added.
2014 will be the third year for Li to participate in bauma China. He went to Intersolar Europe 2013 in Germany to meet more foreign buyers and seek business opportunities in the overseas market.
"Clients will know who we are and what we produce. We will have a precise view about the market and can better understand what our clients need. That's a win-win situation," said Li. "We also obtain inspiration and up-to-date information of the whole industry from exhibitions."
In bauma China 2014, Huanqiu will present its products such as slewing drive for construction machines and for solar trackers.
Currently, Huanqiu's products are sold to several countries in Asia. Li said the company plans to expand its network to American and European markets.