The seventh International Trade Fair for Construction Machinery, Building Material Machines, Construction Vehicles and Equipment, bauma China 2014, will be held at the Shanghai New International Expo Centre from November 25 to 28, 2014.
A vast number of specialists and construction machinery enthusiasts are looking forward to this biennial event. More than 3,000 exhibitors from 40 countries will gather to showcase tens of thousands of new products in the grand exhibition space, of 300,000 square meters. The number of visitors is estimated to be more than 180,000.
Down-to-earth for sustainable success
The development of the construction machinery industry has been tepid this year, with its increase rate falling between January and September, with the exception of compacting machinery.
However, China's construction machinery market still has great potential for development with 42 integrated transport hubs to be completed in the next several years. The National Development and Reform Commission has approved plans to invest about 100 billion yuan ($16.3 billion) in railway projects and a trillion yuan ($162.6 billion) in the reconstruction of shabby settlements.
The national new urbanization program, which China plans to complete by 2020, will also push forward the construction of urban infrastructure facilities, creating a big market for construction machinery.
"Although the industry will find it difficult to recover back to the level it was at in 2011, it will not go up or down dramatically. This is because the policies set by the country for steady economic growth will gradually exert good functions to the industry development and the overall situation will improve and turn to sustainable development," Su Zimeng, secretary of the China Construction Machinery Association, said, adding that industry sales are expected to increase by 7 percent this year.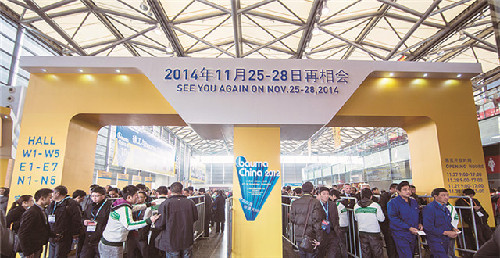 Visitors at bauma China 2012, a biennial event for construction machinery, building material machines, construction vehicles and equipment. PHOTO PROVIDED TO CHINA DAILY
During the 12 years it has been operating, bauma China has witnessed a lot of Chinese construction machinery enterprises expand to the international market, said a source with bauma China.
"The trade fair, which is held every two years, will take place in 2014 and bring a grand banquet for the Asian construction machinery industry," the source added. Insiders said faced with a painful period of industry transformation, the whole industry has calmly considered the future development of China's construction machinery and many exhibitors will focus more on future displays of their key products.
The source said, along with China's modularization construction that is currently in progress, the lifting products and aerial work platform machinery will be the highlights of bauma China 2014. China will start the process of upgrading its construction machinery industry, with both key accessories and complete machines to be continuously updated according to customers' practical experience.
The exhibition has been endowed a kind of new responsibility: showcase advanced technologies and display here in China the products designed for Chinese users to the global world.
Starting from bauma China and expanding to the world, the trade fair will show "the Chinese production with a down-to-earth attitude for excellence ".