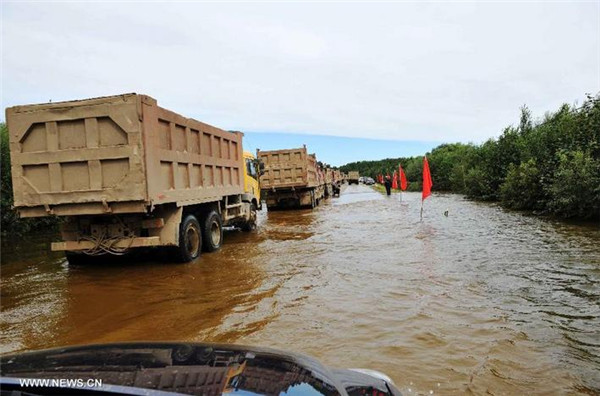 Vehicles move on a flooded road leading to Fuyuan county, Heilongjiang province, Aug 26, 2013. The roads leading to Fuyuan county were cut off by floods due to breach of a dike on a section of the Tongjiang River. [Photo/Xinhua]
HARBIN - The Sino-Russian bordering Heilong River in Northeast China's Heilongjiang province has seen its worst flooding in a century with continuous rising water levels, said local authorities on Sunday.
The Heilong River has swelled since mid-August, with some sections of its middle and lower reaches seeing their worst floods in history, according to the Heilongjiang provincial flood control headquarters.
At 8 am Saturday, the Qindeli hydrometric station on the river recorded a record-high water level of 50.62 meters, 1.31 meters higher than the previous record logged in 1984.
Meanwhile, the Fuyuan hydrometric station also recorded its new water level record of 43.37 meters, 0.98 meters higher than the previous record set in 1984.
On Saturday, data taken by the Russian Leninskoye hydrometric station indicated that a new record high water mark had been set for the Tongjiang-Fuyuan river section, with the day's level surpassing the previous highest in 1984 and representing the worst flood since the station's foundation in 1896.
The Heilong River is also known in Russia as the Amur.